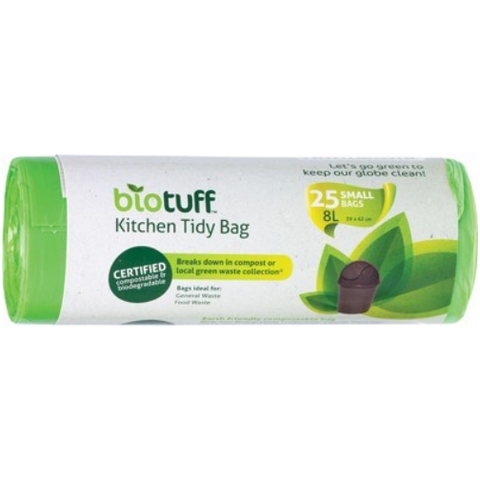 Biotuff
Biotuff Kitchen Tidy Bag Small 8L Bags x25
These strong and durable rubbish bin bag liners are biodegradable and compostable and made using non gmo corn starch resins. These bags really do breakdown in your backyard compost!
Not only do these bin bags help to significantly reduce C02 emissions compared to traditional plastics, but they are also highly puncture, tear and heat resistant as well as being tough and leakproof. 
 Roll of 25 8L capacity kitchen tidy bags. 
Dimensions:
39 (W) x 42 (L) cm. 8L capacity.
Key Benefits:
Reduces CO2 Emissions

Petroleum Consumption

Landfill Waste

Reduce Greenhouse Gases

Reduce Oil Consumption

Saves Consumption: 2 Liters of Oil

Reduces Emission: At Least 1.5 Kg of CO2