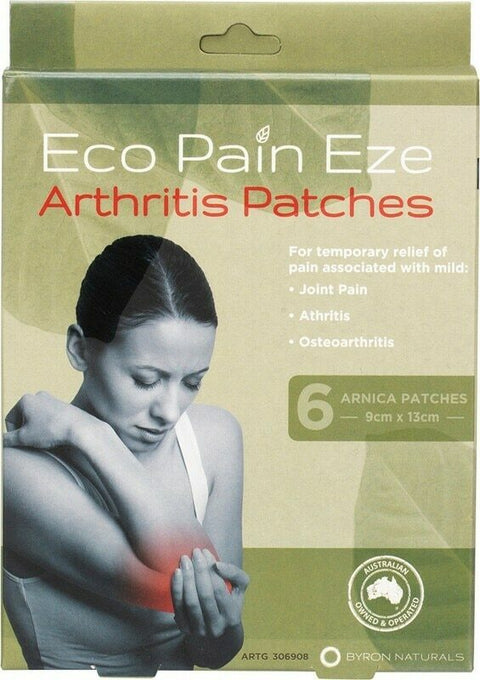 Byron Naturals
Byron Naturals Eco Pain Arthritis Arnica Patches - 6 Pack
Description:
Byron Naturals transdermal Arnica patches applied directly to the area for temporary relief of pain associated with mild:
Joint Pain
Arthritis Pain
Osteoarthritis
Harnessing the power of natural medicine and modern science.
Easy to apply.
Individual sachets for each pain patch.
Arnica to alleviate pain.
TGA approved ARTG 306908
Patch Size 9cm x 13cm
Usage Directions:
Open pouch and remove patch. Peel off protective film and apply sticky side to the affected areas.  Re-apply a new patch no more than 3 times daily. Remove immediately if you feel any burning or discomfort. Wash hands after applying patch.
Storage:
Store below 25oC.
Warnings:
Always read the label and use as directed.
Do not use with heat pad or other skin medications, cleansers, or applications.  Product contains natural rubber latex, which may cause allergic reactions.  Do not use if pregnant, planning to become pregnant, breastfeeding or on children under 6 years old.  Do not use if you have epilepsy or high blood pressure.  Do not apply to damaged, broken skin or eye area.  Discontinue use if irritation occurs.  Therapeutic claims based on scientific evidence and traditional use.
While all efforts have been made to ensure that ingredient listings are accurate, up to date and complete for products on the Superpharmacy website, suppliers may change formulations on short notice. Please check ingredient listings on the actual product before use.
Ingredients:
Arnica Flower Dry (15mg), Rosemary (5mg), Camphor (50mg), Eucalyptus (8mg).