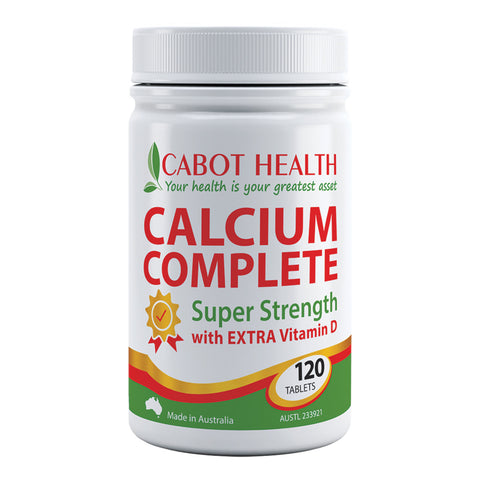 Cabot Health
Cabot Health Calcium Complete 120 Tablets
$16.00
$17.00
you save $1.00
Breast Health capsules combine important nutrients that help support breast health. Vitamin D, iodine, zinc and selenium are required for the maintenance of healthy breast tissue. The ingredients in Cabot Health's formula not only support breast health, but may also help to improve the immune system, thyroid function and bone health.
The Benefits of Breast Health:
Contains Vitamin D: This important immune-regulating vitamin plays an important role in the maintenance of healthy breast tissue. Breast tissue has receptors for vitamin D for it to bind to. Research has shown that vitamin D may influence the cells in how they develop, divide or die. Some studies suggest there is a higher incidence of breast cancer in those with low vitamin D levels.

Contains iodine: The majority of this mineral is stored in the thyroid gland but a large amount is also found in breast tissue. Iodine may act as an antioxidant in the breast, to reduce damage caused by free radicals. Studies have shown that iodine deficiency may increase the risk of breast cysts.

Contains selenium: This important trace mineral is the precursor to the most powerful antioxidant in the body - glutathione. Selenium may help to reduce inflammation in the body, support a healthy immune system and may help to protect breast tissue.

Contains zinc: Zinc plays an important role in supporting healthy thyroid function and supporting the immune system.

Dosage:
Adults: 1 capsule daily, with food or as directed by your healthcare practitioner.
Each capsule contains:

Herbal extracts equivalent to dry:
Fucus vesiculosus whole plant (kelp) (providing 160 mcg iodine) 533 mg

Nutrients:
Selenium (as selenomethionine) 100 mcg
Cholecalciferol (vitamin D3) 1000 IU
Zinc 5 mg
Key Benefits
Dairy Free
Gluten Free
Sulphate Free
Cautions:
- This product contains selenium which is toxic in high doses. A recommended daily dose of 150mcg of selenium daily should not be exceeded.
- Not to be used in those with an overactive thyroid gland, unless urinary iodine levels are checked and the patient's healthcare practitioner recommends iodine supplementation.
- If you experience any breast symptoms such as nipple changes or lumps, consult your doctor immediately.