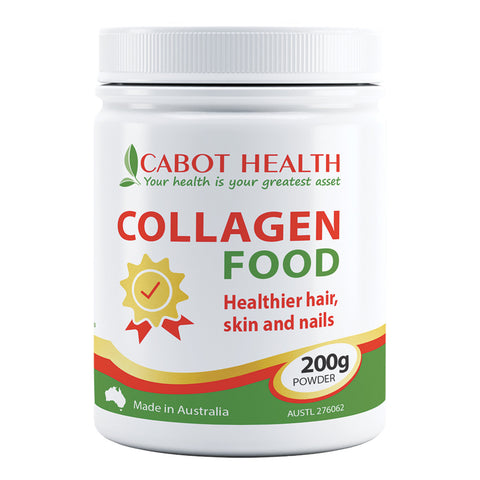 Cabot Health
Cabot Health Collagen Food 200g
Collagen Food (MSM + Vit C + Silica) 200g helps to improve joint health and may increase the strength and integrity of hair, skin and nails. It is the ideal formulation to help fight against the signs of ageing and comes in a pleasant-tasting powder formula for maximal absorption.
Collagen Food is a combination of MSM, vitamin C, biotin, zinc and silica in an effective formulation that helps to fight against free radical damage and inflammation.
Each 1 level metric teaspoon (3g) contains:
Dimethyl Sulfone (methyl sulfonylmethane - MSM) 1500 mg

Vitamins:
Calcium Ascorbate Dihydrate (equiv. to Ascorbic Acid 413.82 mg) 501 mg
Ascorbic Acid 551.67 mg
To provide total Vitamin C 965.49 mg
Biotin 3 mg
Minerals:
Silica - Colloidal Anhydrous 150 mg
Zinc (as glycinate) 10 mg
Contains stevia, natural lemon flavour and sodium bicarbonate.
Key Benefits
Dairy Free
Vegan and Vegetarian Friendly
Gluten Free