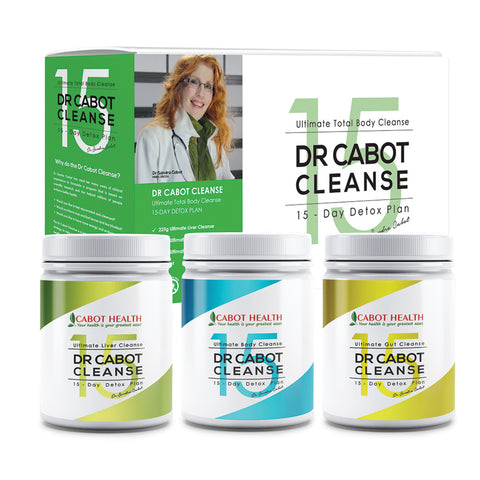 Cabot Health
Cabot Health Dr Cabot Cleanse 15 Day Detox Pack
The Dr Cabot Cleanse is a 15-day detox plan that will help you regain control of your health.
The program was designed by Dr Sandra Cabot and her medical team to restore gut and liver health and reduce inflammation and acidity in the body.
This detox program improves the health of your cells and strengthens the immune system.

The Dr Cabot Cleanse provides 3 products to take daily and a meal plan complete with recipes.

The Ultimate Liver Cleanse powder is a comprehensive formulation, combining potent antioxidants, high-quality superfoods, herbs, greens, vitamins and minerals. It is very high in protein, containing 60% protein by weight. The protein comes from superior Golden Pea protein and is suitable for vegans. This powder contains over 40 key ingredients to support liver and immune health and to increase energy.
Ingredients 
Pea Protein Isolate, Cacao, Vitamin and Mineral Mix, Natural Dark Chocolate Flavour, Citrus Bioflavonoids, Pomegranate Juice, Apple, Broccoli, Sacha Inchi Protein, Magnesium Citrate, Chia Seed, Ascorbic Acid, Acerola Berry, Coconut Water, Bilberry Fruit, Peppermint Leaf, Rosehip, Turmeric, Beetroot, Citric Acid, Acai Berry, Mangosteen Fruit, Noni Fruit, Calcium Citrate, Maqui Berry, Natural Vanilla Flavour, Carrot, Carica Papaya Fruit, St Mary's Thistle, Spinach Leaf, Rosemary, Ashwagandha, Bromelain, Silica Colloidal, Pineapple Juice, Kelp, Dandelion Leaf, Kakadu Plum, Calcium Carbonate, Camu Camu, Lucuma, Grapeseed, Papain, 5-Methyltetrahydrofolate.
The Ultimate Body Cleanse powder is a potent combination of alkalinising greens and minerals. It has been designed to reduce acidity and optimise the pH (acid-base balance) in the body.
Ingredients
Chlorella Powder, Lemon Juice Powder, Calcium Carbonate, Potassium Bicarbonate, Magnesium Carbonate, Sodium Bicarbonate, Calcium Citrate, Magnesium Citrate, Natural Lemon Lime Flavour, Guar Gum, Celery Seed Meal, Alfalfa Powder, Parsley Powder, Thaumatin, Stevia.
.The Ultimate Gut Cleanse powder is a superior gut powder, combining nourishing and healing amino acids, fibres and a live probiotic. This formula was designed to repair and strengthen the gut and improve gut bacteria.
Ingredients
Glutamine, Chia Seed Flour, Saccharomyces Boulardii (20B), Slippery Elm Bark Powder, Apple Pectin, Natural Lemon Lime Flavour, Thaumatin, Aloe Vera Powder 100:1, Stevia.
Key Benefits
Dairy Free
Gluten Free
Organic Ingredients
Vegan and Vegetarian Friendly
Sulphate Free
Those who have type 1 diabetes, liver or kidney failure or are pregnant or breastfeeding should consult their healthcare professional before undertaking the cleanse.