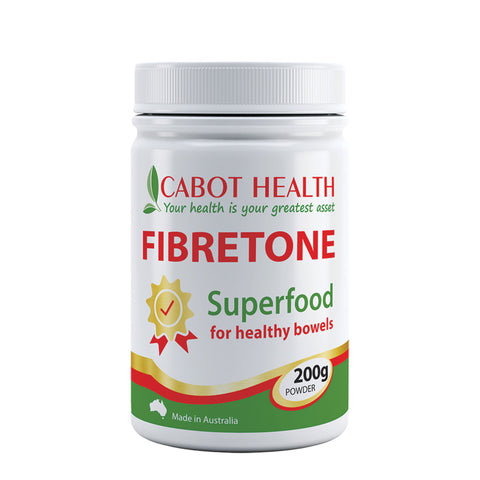 Cabot Health
Cabot Health Fibretone Powder Neutral 200g
Fibretone contains a combination of fibre, amino acids and herbs to help cleanse the bowel and promote healthy bowel movements. Fibretone has been reformulated to contain twice the amount of fibre to further improve digestive health. It may help to promote healthy cholesterol levels and reduce digestive symptoms. It is important to support the gastrointestinal system, to improve overall health and wellness.
The Benefits of Fibretone
Improved bowel movements: The psyllium in Fibretone acts as a gentle bulk laxative that absorbs water into the large intestine and helps to bulk and soften the stool. It can help to promote regular bowel movements and reduce strain caused by constipation.

Relief of digestive symptoms: By helping to improve the health of the bowels, Fibretone may help to reduce symptoms of indigestion, bloating, abdominal pain and constipation. Fibretone may help those with irritable bowel syndrome or an inflammatory bowel disorder.

Healthy cholesterol levels: Fibre binds to cholesterol and helps to excrete it through the bowel. Studies have shown that psyllium husk could help to lower cholesterol levels and improve the ratio of HDL:LDL cholesterol. St Mary's thistle and taurine support the liver detoxification pathways which are responsible for removing excess cholesterol from the body.

Cleansing and detoxification: Psyllium husk acts

Dosage:
Adults and children over 4: 1-2 teaspoons daily.
Fibretone should be stirred into a full glass of water or juice. You can also stir it through yoghurt, muesli or a smoothie, but ensure that you have a full glass of water on the side.
Ingredients:
Psyllium husk (75%), maltodextrin*, amino acids (taurine & glycine), silica, powdered liver herbs (dandelion root, St. Mary's Thistle).

*Maltodextrin is a type of starch. It is added to improve the texture and palatability of the product. We use non GMO corn maltodextrin.
Key Benefits
Dairy Free
Gluten Free
Sulphate Free
Vegan and Vegetarian Friendly
Psyllium may delay the absorption of certain medications. Take Fibretone 2 hours away from other medication.
Ensure that you have a full glass of water when taking Fibretone to prevent constipation.
Patients should consult their healthcare practitioner if symptoms persist.
Not to be used in children under the age of 2 without medical advice.