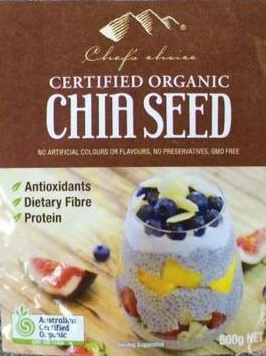 Chef's Choice
Chef's Choice Organic Black Chia Seeds 1kg 40% OFF
$13.00
$17.00
you save $4.00
Chia is a plant of the mint family. It originated in the central Valley of Mexico. Chia is grown commercially for its seed, a source of food that is very rich in Omega 3 fatty acids. 

Chia seed may be eaten raw as a dietary fibre and omega-3 supplement. Grinding chia produces a meal called pinole, which can be made into porridge or cakes. Chia seeds soaked in water or fruit juice is also often consumed and is known in Mexico as 'chia fresca'. The soaked seeds are gelatinous in texture and are used in gruels, porridges and puddings. Ground chia is used in baked goods including breads, cakes and biscuits. Chia sprouts are used in a similar manner as alfalfa sprouts in salads, sandwiches and other dishes.

The main difference between black Chia and white Chia is the growing regions, the nutritional value is much the same. Chia seeds typically contain 20% protein, 34% oil, 25% dietary fibre (mostly soluble with high molecular weight), and significant levels of antioxidants. The oil from chia seeds contains a very high concentration of "Omega 3" fatty acid.
Ingredients:
Organic black chia seeds
Key Benefits:
Certified Organic

GMO Free

Dairy Free

No Artificial Preservatives, Colours, Flavours

No Sweeteners

No added Sulphur

Suitable of Vegetarian & Vegans
Manufactured in facilities that also process soy, nuts and gluten
Certified by ACO
Country of Origin:
Packed in Australia from imported ingredients