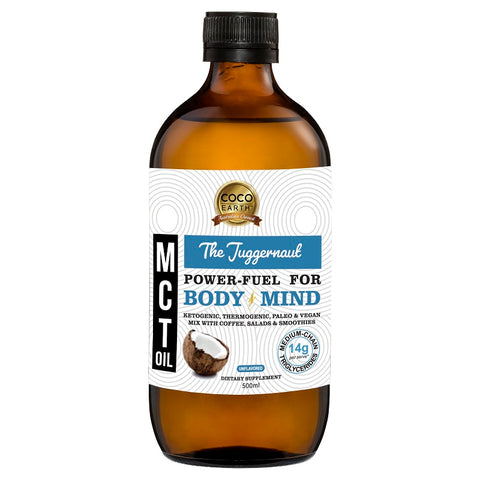 Coco Earth
Coco Earth MCT Oil The Juggernaut 500ml
Thanks for signing up for restock notifications!
There was an error signing up for restock notifications. Please try again.
Sign up for restock notifications
Want a natural source of energy - not from glucose? Try Coco Earth The Juggernaut MCT Oil.
What are MCTs?
MCTs are Medium Chain Triglycerides, a form of saturated fatty acid that has numerous health benefits, including:
Maintaining a healthy weight

Raising your metabolic function

Fuel your day - have more energy!

Aid digestion
MCTs convert ketones and are quickly metabolised, providing a fast and powerful source of energy.
Extremely low carbs in The Juggernaut Unflavored MCT oil makes it highly Ketogenic friendly. This will not only help you to get into the Ketosis but also will support you to stay in. Include it as a dietary supplement in your healthy lifestyle.
Directions:
Take 1-3 tbsp daily as a dietary supplement. Add to coffee, smoothies, yogurt & salads. Start with small amount as excessive consumption may cause digestive discomfort.
Ingredients:
100% Coconut Medium Chain Tryglicerides from Virgin Coconut Oil
Key Benefits:
Gluten Free

Dairy Free

Suitable for Vegetarians & Vegans
Certified by ACO