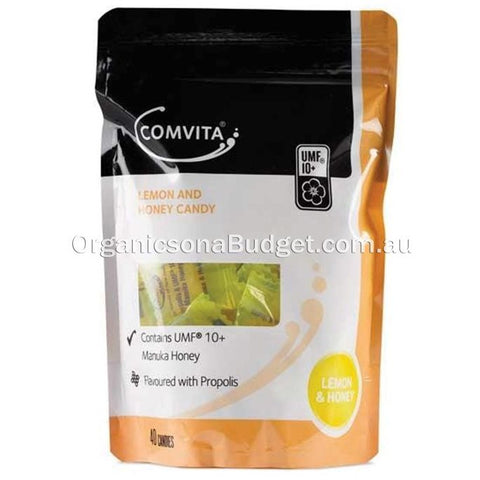 Comvita
Comvita Propolis Candy Lemon & Honey 40 Contains Manuka UMF 10+
$18.00
$19.00
you save $1.00
One of the family favourites, Comvita® Lemon and Honey Candy combine the soothing qualities of UMF® 10+ Manuka Honey with the flavour of Propolis and Lemon and Honey.
UMF® stands for 'Unique Manuka Factor', a measure of the unique type of activity which is naturally present at varying levels in honey made form the nectar of the Manuka bush (Leptospermum scoparium), native to New Zealand.
Contains UMF® 10+ Manuka Honey.

Contains Propolis.

Lemon & Honey flavo

ur.
New Zealand Manuka has long been valued for its health-maintaining effects and Manuka Honey is gaining worldwide recognition for its unique properties. Propolis contains high levels of bioflavonoids.
Ingredients:
Sugar, corn sugar, UMF 10+ manuka honey (4.7%), water, propolis solids, lemon flavour, menthol, peppermint.
Key Benefits:
GMO Free

Gluten Free

Dairy Free

Suitable for Vegetarians