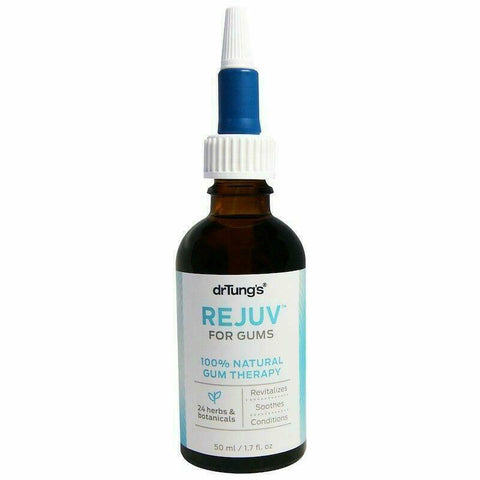 Dr Tung's
Dr Tung's Rejuv For Gums Revitalizes, Soothes, Conditions 50ml
Your mouth never had it so good.
Authentic Ayurvedic formula! 
Rejuv for gums is one of the most powerful nourishing formulas for gums available. A time-tested remedy of 24 plants and herbs used for healing and strengthening the gums. It is recommended for a whole range of oral conditions from receding gums, oral pain, swollen gums, swelling of gums and bleeding gums, to dry mouth. This unique, 'complete' product is unlike other products which can only target one oral problem. Some people have even said that it helped tighten loose teeth - Rejuv can be used for all gingival conditions.
Rejuv for gums is the ONLY all-natural gum remedy that treats and conditions sore and receding gums. Some of its plants and botanicals - like cassia and ficus bengalensis - have an astringent quality, said to be most useful for healing gum tissue. And research indicates that the sesame oil base (which soothes and nourishes, helps the herbs revitalize the gums and alleviate dry mouth conditions) has antimicrobial affects on subgingival plaque. In doing its healing, REJUV™ for gums also removes bacteria from the oral cavity, leaving the mouth fresh and revitalized.  It is gluten-free, alcohol-free and preservative-free.
Ingredients:
Sesame Oil (Organic), Acacia Nilotica*, Ficus Religiosa*, Wild Himalayan Cherry*, Cardamom Extract (Organic), Banyan Tree, Acacia Catechu*, Lodh Tree*, Indian Madder*, Eagle Wood*, Indian Gall-Nut*, Indian Gooseberry, Gmelina Arborea*, Long-Leaved Pine*, Spikenard*, Stone Flowers, Sandalwood*, Woodfordia Fruticosa*, Deodar*, Licorice*, Clove*, Lotus Seed, Lemongrass, Turmeric, Nutgrass, Nutmeg, Cinnamon, Camphor. *Wild Harvested
Key Benefits:
Dairy Free
Vegetarian
Vegan Friendly