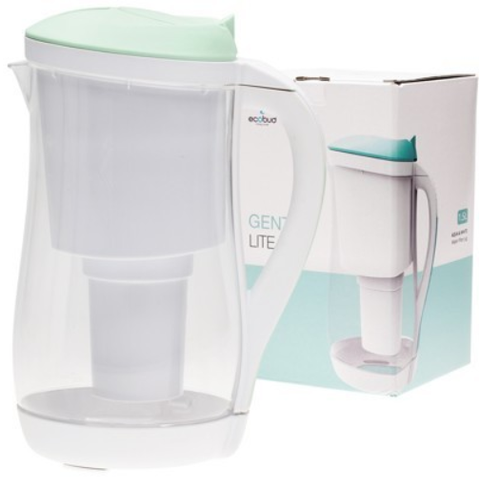 Ecobud
Ecobud Gentoo Plastic Filter Jug Aqua & White - 1.5L
$54.00
$61.00
you save $7.00
Filtered, fresh water ready for you every day. Use this amazing filtration system indoors or outdoors, and stay hydrated with great tasting water without the unwanted extras.

Forget boiling, elaborate filtration systems or the need for electricity. Enjoy purified drinking water quickly anywhere, any time. The Gentoo water filter jug not only alkalises the water, but also eliminates chlorine*, fluoride*, contaminants (ie. heavy metals) and bacteria to minimal level from your water, leaving you with a cup of liquid health.
Important Usage Information
Use only ecobud® Gentoo replacement filters.
Do not overfill jug.
Do not use for long-term storage. Water loses alkalinity when exposed to air. Contents should be consumed within 24 hours.
Should your Gentoo jug not be used for an extended period of time (e.g. during holidays), it is recommended that you remove the filter cartridge from the jug, discard of any water left in the jug, and store in a cool, dry place. Before using your Gentoo jug again, please follow the filter conditioning process, repeating steps if necessary.
Do not expose filter to liquids other than water.
ecobud® filters are designed for use only with municipally treated tap water or water from private supplies which have been tested safe to drink.
*Individual results may vary depending on water quality source.
Includes:
1 x Gentoo Lite Water Filter Jug
1 x Gentoo Filtration Cartridge
Instruction for Filter Preparation
Key Benefits:
Alkalises Water to pH range of 8.0 - 8.5

Detachable Lid - making cleaning easy!

Eco-Friendly

BPA, BPS and Phthalate free!

BPA Free