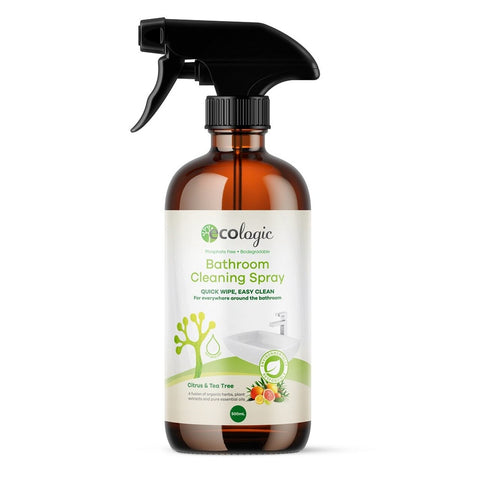 Ecologic
Ecologic Bathroom Cleaning Spray Citrus & Tea Tree - 500ml
Ecologic Bathroom Cleaning Spray - Citrus & Tea Tree is the natural way to clean your bathroom without synthetic chemicals or harsh ingredients that can be harmful both to humans and our planet.
This eco-friendly bathroom cleaner has a 100% natural, yet powerful, formula and is suitable for cleaning all bathroom surfaces. It includes a fusion of organic herbs, plant extracts and pure essential oils including:

Tea Tree Essential Oil - known for its natural antibacterial and anti-mould properties
Lemon and Lemon Myrtle Essential Oils - with antibacterial and anti-fungal benefits
Organic Soapwort Herb Extract - helps to create a natural foam with gentle cleansing properties
Ingredients:
Demineralised Aqua, Cationic Guar Gum, Coco Glucoside, Parfum (Natural Preservative) , Lemon Essential Oil, Organic Lemon Myrtle Essential Oil, Tangerine Essential Oil, Organic Tea Tree Essential Oil, Organic Horsetail Extract, Organic Lavender Hydrosol, Organic Witch Hazel Extract, Soapwort Extract, Organic Liquid Soap, Citric Acid, Potassium Sorbate.
Key Benefits:
Organic Ingredients

100% Natural

Antibacterial, Aromatic Properties of Pure Essential Oils

Eco Friendly

Biodegradable

Family & Household Safe

Grey Water Safe

Sulphate Free

Cruelty Free

Suitable for Vegetarians & Vegans
Not Certified Organic
Barcode
9321582004592