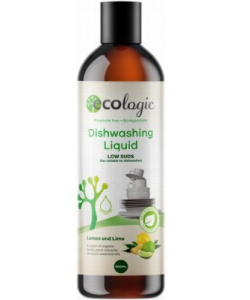 Ecologic
Ecologic Dishwash Liquid Lemon & Lime 500ml
$7.00
$8.00
you save $1.00
Let Ecologic dishwash cut through grease and grime to leave dishes and glasses sparkling. This environmentally friendly formula won't pollute our rivers and streams.
It will not fade your delicate china or discolour your glasses. Organic aloe vera, chlorella and papaya extracts have been added for its beneficial properties on the skin leaving your hands soft and moisturised. Low suds and it can be used in dishwashers also.
Completely biodegradable with a recyclable bottle. No bleach, no phosphates, no ammonia- nothing but a beautiful blend of plant extracts and pure essential oils.
Ingredients:
Aqua, Organic Soapwort Herb Extract, Organic Saponified Olive Oil, Decyl Glucoside, Seaweed Extract, Sodium Chloride (Sea Salt), Organic Extracts Of Papaya, Chlorella And Aloe Vera, Xanthan Gum, Citrus Seed Extract, Lemon, Lime And Grapefruit Essential Oils.
Key Benefits:
Organic Ingredients

100% Natural

Antibacterial, Aromatic Properties of Pure Essential Oils

Eco Friendly

Biodegradable

Family & Household Safe

BPA Free

Grey Water Safe

Sulphate Free

Cruelty Free

Suitable for Vegetarians & Vegans
Not Certified Organic
Barcode
656288077021