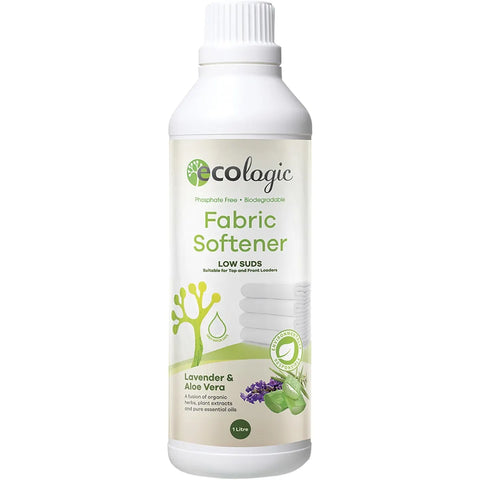 Ecologic
Ecologic Fabric Softener Lavender & Aloe Vera 1L
$10.00
$11.00
you save $1.00
A Natural Softener to Gently cleans and Softens Delicates. A Mild Formula that can be used for hand washing and Designed for Sensitive Skin.
A very mild formula that makes use of the softening properties naturally occurring in Aloe Vera. It gently cleans and softens delicates. It is perfect to keep towels soft and fluffy and delicates delightfully light. It leaves every load smelling fresh and helps to make ironing a breeze. If is also suitable for hand washing and very gentle on your skin.
Ingredients:
Purified Water, Organic Saponified Coconut Oil, Organic Aloe Vera Leaf Extract, Organic Saponified Olive Oil, Organic Soapwort Herb Extract, Coco Glucoside, Glyceryl Oleate, Seaweed Extract, Sodium Chloride (Sea Salt), Organic Extracts of Lavender Flowers, Horsetail Herb and Witch Hazel Bark, Guar Gum, Citrus Seed Extract, Lavender Essential Oil.
Key Benefits:
Organic Ingredients

100% Natural

Antibacterial, Aromatic Properties of Pure Essential Oils

Eco Friendly

Biodegradable

Family & Household Safe

Grey Water Safe

Sulphate Free

Cruelty Free

Suitable for Vegetarians & Vegans
Not Certified Organic
Barcode
9321582004622