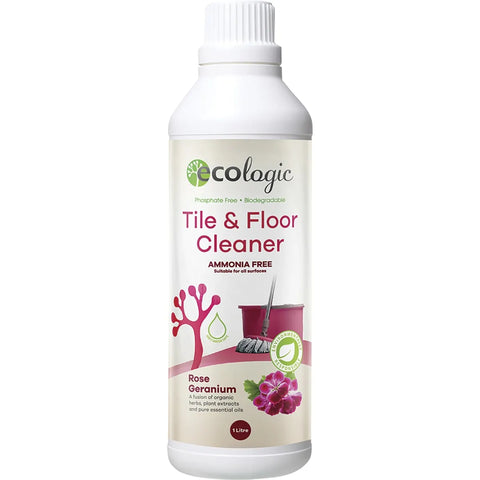 Ecologic
Ecologic Tile & Floor Cleaner Rose Geranium 1L
Perfect for use on tiles and hard surfaces; The combination of witch hazel and horsetail concentrated extracts together with geranium essential oils known for their antibacterial and antifungal properties help keep germs at bay and it works as a natural disinfectant & deodoriser.
It dissolves away dirt and grime on hard floors leaving them sparkling clean and shiny without any filmy detergent residue.
Ingredients:
Purified Water, Coco Glucoside, Organic Extracts of Lavender Flowers, Horsetail Herb and Witch Hazel Bark, Organic Soapwort Herb Extract, Organic Saponified Coconut Oil, Organic Saponified Olive Oil, Coco Betaine, Seaweed Extract, Sodium Chloride (Sea Salt), Locust Bean Gum, Citrus Seed Extract, Geranium and Rose Geranium Essential Oils.
Key Benefits:
Organic Ingredients

100% Natural

Antibacterial, Aromatic Properties of Pure Essential Oils

Eco Friendly

Biodegradable

Family & Household Safe

Grey Water Safe

Sulphate Free

Cruelty Free

Suitable for Vegetarians & Vegans
Not Certified Organic
Barcode
656288077137