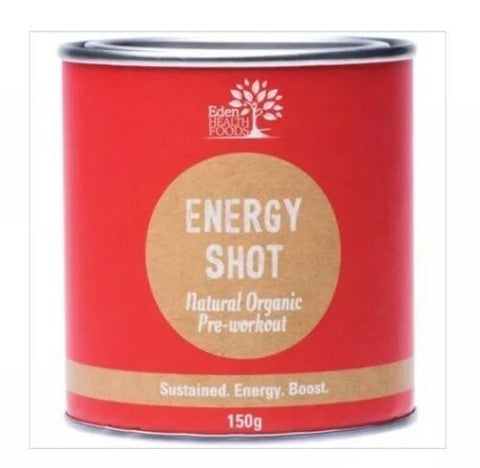 Eden Health Foods
Eden Health Foods Energy Shot Pre-Workout 150g
$27.00
$30.00
you save $3.00
Energy Shot is the only pre-workout supplement that uses certified organic and wildcrafted whole herbs to stimulate your mind and body NATURALLY, without using harmful artificial stimulants and ingredients that aren't good for you.
It is 100% natural and does not contain any sugar, artificial sweeteners, chemicals, artificial flavours, colours, preservatives and has no added caffeine. It has nutritional and stimulating properties so there is no crash, no jolts, no jitters and no shock. The ingredients used will support your body and provide nutritional and antioxidant benefits.
Features:
Australia's only entirely natural pre-workout
Made from organic and wildcrafted whole herbs and superfoods
Guarana, Yerba Mate, Green Tea and more create a smooth energy increase without any crash, jolts, jitters or shock
Alkalising plant-based energy, with high antioxidant content
Hawthorn Berry is a heart herb, known to protect and rebuild heart tissue
Why choose energy shot?

Most pre-workout supplements on the market are comprised of extreme amounts of artificial synthetic ingredients, loaded with ridiculous amounts of caffeine, and have been known to create adverse effects like headaches, itchiness, tingling sensations, GI distress, insomnia, nightmares and the list goes on.
You work too hard at the gym to nurture your physical health, to just take any supplement. Why would you want to feed your body with something that causes stress on your body, and isn't providing any nutritional benefit?
Regardless of what type of training you are doing, Energy Shot will help stimulate your body and mind to create more endurance, stamina, strength, power, performance and vitality as well as mental focus, NATURALLY! We go to extra lengths to keep this product as natural as possible by including the highest doses of active ingredients to ensure you experience everything Energy Shot can deliver.
About:
Energy Shot is Australia's only entirely natural pre-workout made of organic and wildcrafted whole herbs and superfoods, designed to naturally stimulate and support. Users experience a gentle, clean, and calm increase in energy with a smooth finish. Unlike other highly caffeinated pre-workouts that create an artificial peak and then drop you, Energy Shot will work synergistically with the body to provide sustained energy throughout the day. The unique blend contains:
Guarana Seed contains guaranine, an effective caffeine-like stimulant. One seed contains about twice the concentration of "caffeine" found in coffee seeds (about 3.6–5.8% "caffeine" in guarana seeds compared to 1–2% for coffee seeds/beans). It leaves you feeling more alert and energetic, without the same negative jittery side effects of coffee;

Yerba Mate Leaf contains mateine, another effective caffeine-like stimulant used in many cultures to relieve mental and physical tiredness (fatigue), as well as chronic fatigue syndrome (CFS). It triumphs as the most balanced stimulant, delivering both energy and nutrition – "strength of coffee, the health benefits of tea". The leaves are a nutritional powerhouse containing 24 vitamins and minerals, 15 amino acids, abundant antioxidants. It is not acid forming, therefore promotes alkalinity within the body;

Two types of Green Tea (Sencha and Matcha) which contain about a third to half the amount of caffeine found in a cup of coffee, and a rare amino acid L-theanin that produces an anti-stress effect, creating a sense of calm alertness with long-lasting energy. All green teas are known for their high levels of powerful polyphenols like flavonoids and catechins, which function as powerful antioxidants to reduce the formation of free radicals in the body, protecting cells and molecules from damage;

Kola Nut boosts the metabolism, increases circulation and oxygenation to parts of the body, including the skin extremities, organs, and the brain. It contains a similar amount of caffeine to coffee (1.5% - 2% caffeine), plus theobromine, which increases cerebral circulation promoting better concentration and mental focus;

Four types of ginsengs are used to stimulate, which include Siberian Ginseng Root, Brazilian Ginseng (Suma), Korean Ginseng and Tienchi Ginseng. All ginsengs are famous for their reputation for being able to improve the body's resistance to fatigue and help increase work capacity and concentration. They are known to improve general cognition functionality, memory, physical endurance, depression, anxiety, and as a natural cure for chronic fatigue;

Damiana Leaf and Licorice Root are known for their hormone boosting and adrenal phytochemical properties. Daminana may have the potential to inhibit aromatase, the enzyme responsible for converting testosterone to oestrogen, creating a hormonal energy boost. As an adaptogen, Licorice Root regulates cortisol (stress hormone) offering adrenal support;

Ginkgo Biloba Leaf enhances blood flow to improve cognitive function (focus and memory). Its ability to increase vascular dilation and improve health of blood vessels means it supports brain activity, development, detoxifying mechanisms and immune function. Its high antioxidant content supports heart health and molecular damage in the body;

Hawthorn Berry is referred to as the "heart herb" for its cardio-protective properties. Antioxidants improve blood flow, guard against blood vessel damage, and even help to dilate blood vessels. Increased blood flow enhances energy and alertness. Energy Shot will in turn protect the heart as opposed to causing potential cardiovascular damage;

Peruvian Yellow Maca and Maca Juice Powder is derived from yellow maca roots, an ancient superfood consumed by the Incas for increased strength and endurance. Other benefits include increased fertility in both men and women, hormone balance, booster for the immune system, and increased energy, stamina, improved sexual function, memory and focus. Maca Root Juice Powder (also known as Maca Explode) is a more potent form of Maca produced by juicing freshly harvested Maca roots and drying the juice at enzyme-preserving temperatures. Once dried to a powder, it is sifted so only the finest particles make it through to the final product. One teaspoon this is equivalent to 2-3 tablespoons of normal maca; and

Monk Fruit is a sweet fruit found in Asia and is known as the "longevity fruit" because of its high antioxidant level, used to flavour and aid digestion.
The combination of herbs and superfoods create a stimulating, supportive and nutritional energy supplement, unlike anything else in the world. It is suggested that the caffeine-like effect of the herbs used may feel different than that of coffee, because the stimulating compounds are bound to a tannin or phenol creating a different reaction in the body. You will not experience that inevitable anxious crash and burn, only a calming mental freshness with a smooth energy increase and release.
Ingredients:
Nutritional Energy Blend 1.5g – Goji Berry*, Peruvian Yellow Maca*, Peruvian Yellow Maca Juice Powder*
Stimulating Energy Blend 1g – Guarana Seed, Yerba Mate Leaf*, Green Tea Leaf (Sencha)*, Green Tea Leaf (Matcha)*, Kola Nut
Power Energy Blend 1g – Siberian Ginseng Root*, Brazilian Ginseng (Suma)+, Damiana Leaf+, Korean Ginseng*, Tienchi Ginseng
Circulatory Energy Blend 0.5g – Ginkgo Biloba Leaf*, Hawthorn Berry*, Licorice Root*
Flavour Energy Blend 1g – Monk Fruit Plant Extract, Natural Brambleberry, Stevia*
*Certified Organic     +Wildcrafted
Nutritional Information:
| | | |
| --- | --- | --- |
| Serving size (1 tbsp) | | 5g |
| Servings per pack | | 30 |
| | per serve | per 100g |
| Energy | 55.3kJ (13.22 cal) | 1106kJ (264.34cal) |
| Protein | 0.50g | 9.9g |
| Total Fibre | 2g | 39.9g |
| Total Fat | <0.05g | 0.9g |
|       Mono-unsaturated | <0.01g | 0.2g |
|       Poly-unsaturated | <0.02g | 0.4g |
|       Saturated | <0.02g | 0.3g |
|       Trans | <0.01g | <0.1g |
| Total Carbohydrates | 1.72g | 34.4g |
|       Sugars | 0.61g | 12.2g |
| Sodium | 5.5mg | 110mg |
Serving Suggestion:
Mix 1 tablespoon (5g) with water, juice or smoothie. Morning is best or 1 hour before exercise. For best results add 1 tablespoon to a cup of boiling water and let steep. Can replace coffee. Alternatively soak 1-2 tablespoons overnight in water and then consume in the morning or throughout the day.
If you are a regular coffee drinker, or weigh more than 100kg, you may need to increase your serving size. We suggest increasing by 1 serving size (5g) for every cup of coffee you drink in a day, ie. if you drink 2 coffees than use 2 tablespoons (10g) of Energy Shot. 4 tablespoons (20g) is recommended for peak performance and older men.
CAUTION: Avoid consuming before sleep. 
Key Benefits:
Organic Ingredients
Dairy Free
Vegetarian
Vegan Friendly