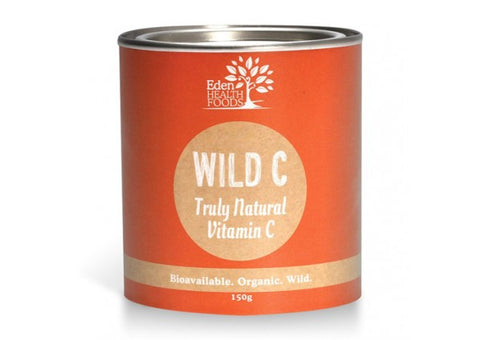 Eden Health Foods
Eden Healthfoods Wild C Natural Vitamin C 150g
Wild C by Eden Healthfoods is a 100% natural occurring Vitamin C Complex made from wild and organic berries and greens. It is a Vitamin C rich super food formula. Wild and organic foods are naturally higher in nutrient content than farmed hybrids due to the conditions in which they grow. The varying and rich colours of the fruits testify to an assortment of available bioflavonoids, meaning an increased intake of antioxidants in your diet.
Ingredients:
Freeze Dried Goji Powder, Acerola Concentrate, Rosehips, Parsley Leaf, Coriander Leaf, Camu Camu, Freeze Dried Acai, Freeze Dried Maqui, Gubinge (Kakadu Plum).
Directions for Use:
Each serving of 1 teaspoon or 3g contains 228mg of totally natural Vitamin C which is approximately 5 times the recommended daily intake (RDI).
Key Benefits:
Certified Organic
Gluten Free
Dairy Free
Vegetarian
Vegan Friendly
Barcode: 738435052768