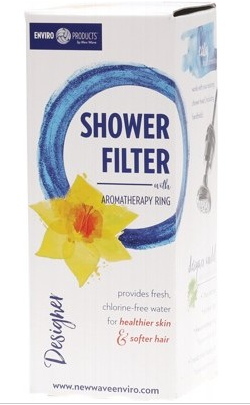 Enviro Products
Enviro Products Designer Shower Filter
$59.00
$67.00
you save $8.00
Did you know that your body actually absorbs more chlorine through the conventional water you shower with through your lungs and nasal passage, then through every day drinking water! This can irritate your lungs and have seriously harmful side effects over time. Chlorine also strips protein from your skin and hair, leaving it dry and itchy.
Get fresh, chlorine free water with the Enviro Products Shower Filter - removes chlorine for up to 12 months! See effects immediately with less irritated skin, eyes and hair!
This shower filter is easy to install and fits most shower heads - no plumbing required! It contains a KDF-55 (mix of zinc and copper) and crystal quartz which converts the chlorine into zinc chloride.  These filters remove chlorine and hydrogen sulfide, reduce heavy metals and naturally soften the water.
This designer shower filter comes with a bonus optional aroma therapy diffuser and installs easily around the outside of the filter housing. This will hold an aroma of your choice, transforming your shower into a unique spa experience, using the steam from the shower water every time!
 Barcode:
796515300741