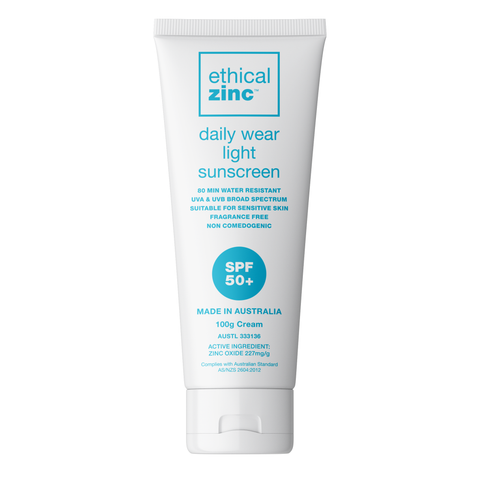 Ethical Zinc
Ethical Zinc Daily Wear Light Sunscreen SPF 50+ 100g
Formulated with certified natural zinc oxide that is easy to apply, rubs in clear with a light feel for everyday wear.
Ingredients:
Zinc Oxide 227mg/g Purified Water, Coco Caprylate Caprate, Medium Chain Triglycerides, Octyldodecanol, Glycerol, Cetearyl Alcohol, Polyglyceryl-3 polyricinolete, PEG-30 Dipolyhydroxystearate, Gluconolactone, Isostearic Acid, Sodium Chloride, Sodium Benzoate, Cetearyl Glucoside, EDTA, Xanthan Gum.
Zinc Oxide (227mg/g): A natural mineral which is the only ingredient that can provide stable broad spectrum protection against UVA and UVB rays. It is also known for its soothing healing properties, making it the perfect choice for sensitive skin.
Purified Water: Purified and deionised water.
Coco Caprylate Caprate: A skin-conditioning agent naturally derived from coconut oil to provide smooth spreadability.
Medium Chain Triglycerides: A fatty oil derived from coconuts rich in antioxidants an antibacterial properties.
Octyldodecanol: A clear, odorless fatty alcohol produced from natural fats and oils. It makes the skin feel nice and smooth.
Glycerol: A natural moisturiser that keeps the skin lipids between our skin cells in a healthy state and protects against irritation.
Cetearyl Alcohol: A waxy substance that's derived naturally from plants like coconuts.
Polyglyceryl-3 Polyricinoleate: Derived from castor oil, usually found in chocolate. We use it to improve the consistency of the sunscreen.
PEG-30 Dipolyhydroxystearate: A water-in-oil emulsifier that gives a light and elegant skin feel and keeps the product stable.
Gluconolactone: An antioxidant and moisturiser which can help to repair skin and improve the appearance of aging skin.
Isostearic Acid: A naturally derived fatty acid we use as a binder.
Sodium Chloride: Also known as salt. Gives the product a nice gel-like texture.
Sodium Benzoate: An anti-fungal ingredient that preserves the product.
Cetearyl Glucoside: A sugar based emulsifier that helps with spreadability to give a soft skin feel.
EDTA: An amino acid that helps keep the product nice and stable.
Xanthan Gum: A natural food grade thickener from sugar used to help stabilise and thicken the cream.
Key Benefits:

Organic Ingredients
Gluten Free
Dairy Free
Vegetarian
Vegan Friendly