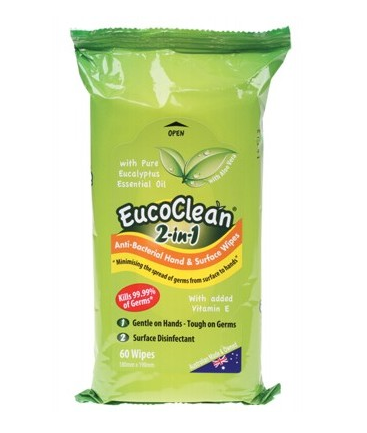 Eucoclean
Eucoclean 2-in-1 Anti-Bacterial Hand & Surface Wipes - 60 pack
$8.00
$9.00
you save $1.00
Eucoclean 2 in 1 is gentle on hands but tough on germs, killing 99.99%. A safe and effective way of cleaning and disinfecting.
Bathroom and toilet areas, kitchen surfaces, stainless steel, timber and tiles, door handles and shopping trolley handles, venetian blinds, vinyl and leather surfaces, highchairs, baby change mats and table, office desks, keyboards and phones, gym equipment.
Ingredients:
Water, Ethyl Alcohol, Benzalkonium Chloride, Glycerine, Dimethyl Lauramine Oleate, Aloe Vera Gel, Vitamin E, Eucalyptus Oil.
Key Benefits:
GMO Free

Kills 99.99% of Germs


Gentle on Hands

Sulphate Free

Suitable for Vegetarians &

Vegans
Not Certified Organic
Barcode
9344214000038