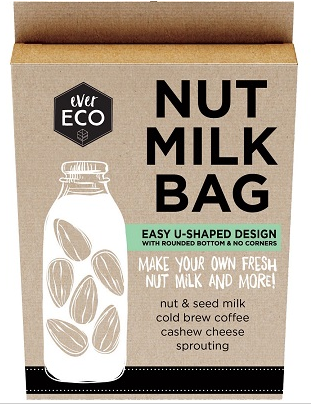 Ever Eco
Ever Eco Nut Milk Bag
$11.00
$12.00
you save $1.00
A versatile kitchen essential that you'll never want to be without. Removing the corners to create a u-shaped bag means nut milk is even easier to make and clean up is a breeze. Making fresh nut milk at home is a low waste alternative to store-bought milk in cartons and is free from the preservatives, oils, emulsifiers and sweeteners commonly used. 
Fabulous Features:
Large 30 x 30cm size

Commercial quality

Made from FDA approved, BPA-free nylon

Ultra fine mesh creates smooth, pulp-free nut milk

Free full colour recipe booklet included

Use your bag for nut and seed milk, cold brew coffee, cashew cheese, straining juice or kefir, sprouting and more!
Barcode
9324794000468

Made in China.