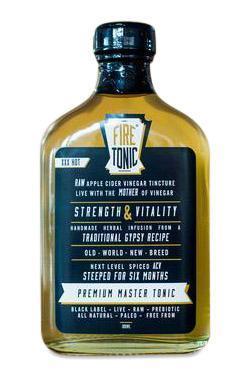 Fire Tonic
Fire Tonic Black Label 180ml
Fire Tonic is an excellent immune booster that is  adapted from a traditional Gypsy recipe and handmade in Torquay (on the Surf Coast). Fire Tonic is a raw, unfiltered apple cider vinegar (ACV), and contains the 'Mother of Vinegar'.
This herbal infusion is a metabolic stimulant and is recommended as daily health tonic 5ml - 15ml 1 - 3 times per day.
Steeped for a minimum of 6 months with extra chillies & Szchezaun pepper this limited release XXX Hot Black Label FiRE TONiC ® has even more Good Juju than usual, and is not for the feint hearted.

Ingredients:

ACV, raw local honey, chillies, turmeric, garlic, horseradish, ginger, carrot, celery, red onion, brown onion, apple, orange, lemon, mustard seed, parsley, rosemary, oregano, thyme, juniper berries, peppercorns, bay leaves, Szechuan pepper & Himalayan pink mineral salt.