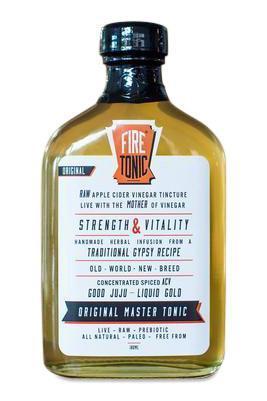 Fire Tonic
Fire Tonic Original 180ml
$15.00
$16.00
you save $1.00
Fire Tonic original is an excellent immune booster that is  adapted from a traditional Gypsy recipe and handmade in Torquay (on the Surf Coast). Fire Tonic is a raw, unfiltered apple cider vinegar (ACV), and contains the 'Mother of Vinegar'.
This herbal infusion is a metabolic stimulant and is recommended as daily health tonic 5ml - 15ml 1 - 3 times per day.

Ingredients:

Apple cider vinegar, raw local honey, chillies, turmeric, garlic, horseradish, ginger, carrot, celery, red onion, brown onion, apple, orange, lemon, mustard seed, parsley, rosemary, oregano, thyme, juniper berries, peppercorns, bay leaves, Szechuan pepper & Himalayan pink mineral salt.