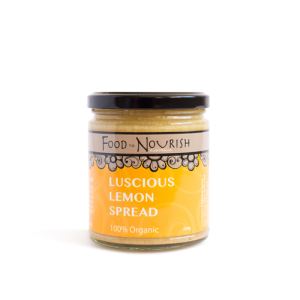 Food To Nourish
Food to Nourish Spread Lucious Lemon 225g
A spread that tastes like lemon curd but is much a healthier version than lemon curd!

We've combined organic activated cashews with organic coconut oil, organic maple syrup and organic cold pressed lemon oil
. We've used maple syrup because it's a terrific unprocessed sweetener, which is rich in anti-oxidants, zinc and manganese. The activated cashew nuts give this spread a delicious creamy flavor and the organic cold pressed lemon oil add a zesty lemon flavor.
Ingredients
Organic activated cashew nuts, organic coconut oil, organic maple syrup, organic raw honey and organic lemon oil.

Key Benefits
Organic Ingredients
No Added Preservatives or Sugars
Paleo Friendly
Suitable for Vegetarians and Vegans