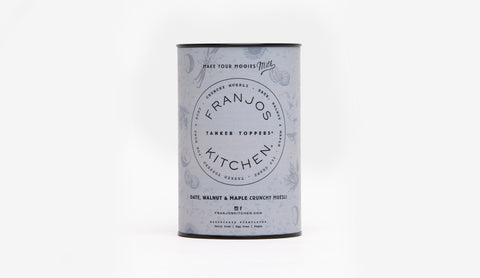 Franjo's Kitchen
Franjo's Kitchen Lactation Muesli Date & Walnut 360g
Franjo's Lactation Muesli is not only delicious but full of natural ingredients that help to increase milk supply and load you & your baby up with vitamins, minerals & good fats during this time.
Who doesn't love a crunchy breakfast muesli to top their favourite yoghurt, fresh fruit , porridge and milk to start the day? The whole family will be trying to get in to this!
Key 'galactogogues' ingredients are Australian oats, brewer's yeast and linseed meal. Each have their own reputation to boost breast milk supply.
Ingredients:
Australian oats, Certified organic buckinis (Buckwheat), Brewer's yeast, Linseed meal, Organic Coconut oil, Walnuts, Dates

Wheat free, Dairy free, egg free & no refined sugar