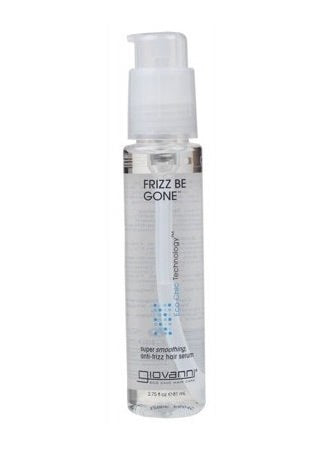 Giovanni
Giovanni Hair Serum Frizz Be Gone 78ml
Fortified with herbs, vitamins and vegetable protein, it penetrates into the hair shaft, sealing in moisture, while adding vibrant shine to the hair. Frizz Be Gone aids in wet or dry combability while leaving the hair with silky feel. Made with a silicone base, Frizz Be Gone is never greasy and will not produce a coating or heaviness to the hair shaft. This product contains a natural sunscreen and is alcohol and oil free. Frizz Be Gone contains no animal by-products and is never tested on animals.
Features:
Super smoothing, anti-frizz hair serum

Controls frizzes and adds shine

Powerful conditioning properties that locks in color

Astonishing shine

Controls frizzy ends

Conditions and fills porosity of hair

Only a few drops are needed

Alcohol free
Ingredients:
Cyclomethicone, Soy, Dimethicone, Tocopherol Acetate (Vitamin E), Provitamin B5, Beta Keratin (Vitamin A), Rosemary Extract, St John's Wort Extract, Chapparel Extract, Quassia Extract, Cinnamate.
Use:
Apply to wet hair before blowdrying
Key Benefits:
Certified Organic Ingredients

GMO Free

No Animal By-Products

Cruelty Free

Contains Essential Oils & Extracts

Sulphate Free

Suitable for Vegetarians