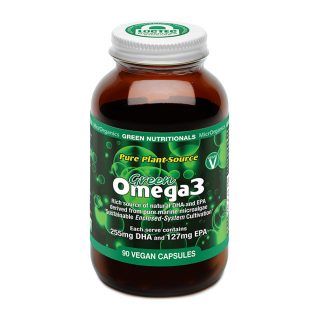 Green Nutritionals
Green Nutritionals Green Omega3 Vegan Capsules (127mg) - 30 Caps
$17.00
$18.00
you save $1.00
Green OMEGA 3 is ideal for vegans and vegetarians who want an Omega 3 supplement with all of the benefits of fish oil, but without the fish and the related sustainability issue of using a fish source.

While most people know fish are a rich source of Omega 3 (DHA and EPA), many don't know that the fish actual get these essential fatty acids from the marine microalgae they eat in their natural environment.
So Green OMEGA 3 has by-passed the fish and gone straight to the source to get these essential Omega 3 fatty acids DHA and EPA from the very same organic marine microalgae (Schizochytrium sp.) the fish get them from.

The benefits of a diet rich in Omega 3 (DHA and EPA) are well known to include heart, brain and eye health.
Green OMEGA 3 from renewable algal source is a vegan alternative to fish oil for essential DHA and EPA. Algal derived oils are 100% clean, free from heavy metal like mercury and arsenic and do not contribute to the destruction of our ravaged oceans.
Ingredients:
Microalgae Oil (Schizochytrium Sp.), Rosemary Oil (Rosmarinus Officinalis), Vegetable Capsule.

Key Benefits:
GMO Free

Dairy Free

Suitable for Vegetarian & Vegan

Halal

Kosher