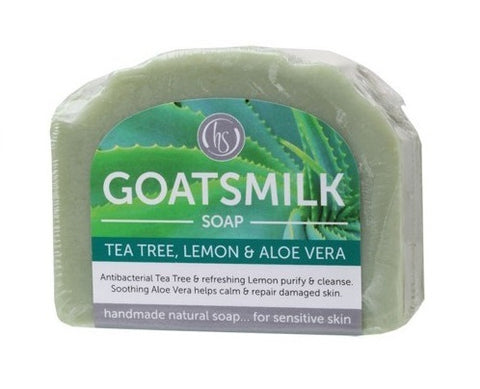 Harmony Soapworks
Harmony Soapworks Tea Tree & Lemon Goat's Milk Soap 140g
$5.00
$6.00
you save $1.00
This soap is made from goat's milk, and a range of luxury oils including olive, coconut, palm and castor oil. The rose geranium essential oil provides a luxurious touch that lingers on the skin long after the bar has been used. It is made from a combination of luxury oils and goat's milk, and is so gentle it is popular with people who have sensitive skin, eczema or psoriasis.From the days of Cleopatra, milk has been used as a luxurious moisturiser.
Goat's milk contains proteins, amino acids and Vitamin A to nourish the skin. Milk also contains lactic acid which helps to exfoliate, cleanse and soften the skin. Goat's milk has a pH level that is close to our own skin's pH, making it very gentle on even the most sensitive skin types.

Ingredients
Olive Oil, Sustainable Palm Oil, Coconut Oil, Goatsmilk Powder, Tea Tree Pure Essential Oil, Lemon Pure Essential Oil, Pure Aloe Vera Gel, Green Pigment (Premium Cosmetic Grade).
Key Benefits:
Organic Ingredients

Made with Sustainable Palm Oil

No Colour Added & No Sodium Lauryl Sulfate

Suitable for Vegetarians