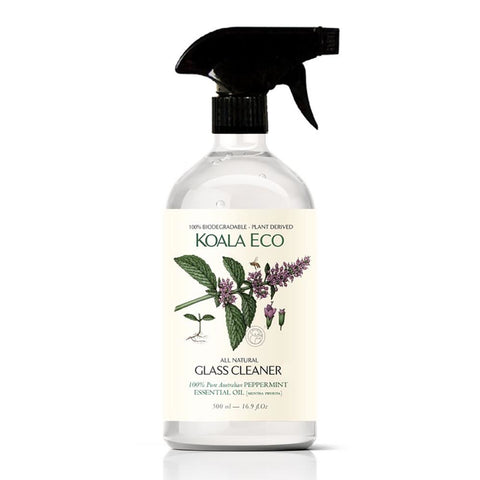 Koala Eco
Koala Eco All Natural Glass Cleaner Peppermint - 500ml
$9.00
$10.00
you save $1.00
Koala Eco All Natural Glass Cleaner Peppermint cuts through film and polishes to smear-free perfection while discouraging dust from re-settling. The native peppermint is also a very effective insect deterrent. This powerful yet eco-friendly formula cleans and polishes windows, glass doors and mirrors to a high lustre without the need for toxic chemicals.
Features:
Natural

Effective & powerful

Natural disinfectant

Refreshing scent

Eco-friendly

Non-toxic

No synthetic perfume

Anti-fungal
Ingredients:
Plant-Based Ingredients: Mentha Piperita (Peppermint Essential Oil), Aqua (Purified Water), Sugar-Based Biodegradable Alcohol, Plant-Based Biodegradable Solubiliser.

Key Benefits:
All Natural

GMO Free

High Performance

Suitable for Vegetarians and Vegans
Not Certified Organic