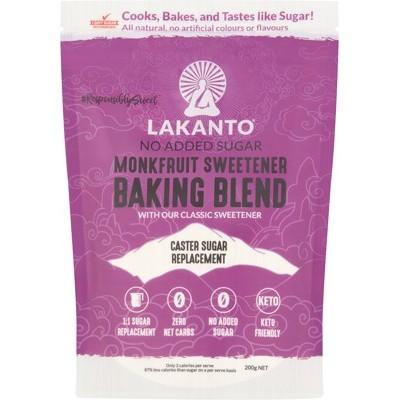 Lakanto
Lakanto Baking Blend - Monkfruit Sweetener Caster Sugar Replacement 200g
Say hello to the ultimate sugar-substitute—specially formulated to make your baking healthier. The unique texture means it dissolves effortlessly, retains moisture, can control cookie spread, and provides better browning for your desserts. Stay on track with your health goals while still making your favourite baked goods.
Lakanto Monk Fruit Sweetener a low calorie, zero glycemic sweetener that tastes just like sugar. It is made from Monk Fruit which was used for centuries in eastern traditional herbalism to increase chi and well-being, earning it the nickname "The Immortals' Fruit".
Key Benefits:

Gluten Free
Dairy Free
Vegetarian
Vegan Friendly
Ingredients:

Lakanto Classic Monkfruit Sweetener (Erythritol and Monk Fruit Extract (1%)), Inulin (Chicory Root Fibre), Tapioca Starch, Xanthan Gum.