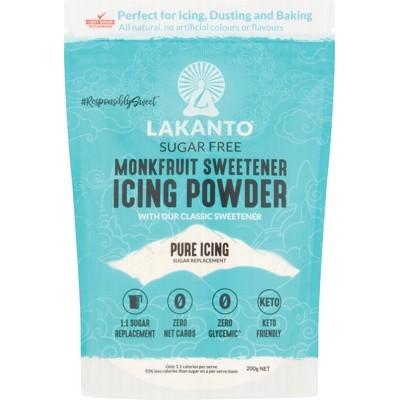 Lakanto
Lakanto Icing Powder - Monkfruit Sweetener Icing Sugar Replacement 200g
Lakanto Classic Monkfruit Sweetener is ground to a fine powder to replace pure icing sugar with 93% less calories. Ideal to use with fondant, glazes, royal icing, buttercreams and dusting. It dissolves quickly and gives an even sweetness and smooth finish. Excellent for dusting on finished desserts or baked goods. Replace icing sugar in any recipe with Lakanto Icing Powder for a perfect sugar free treats.

Lakanto Monk Fruit Sweetener a low calorie, zero glycemic sweetener that tastes just like sugar. It is made from Monk Fruit which was used for centuries in eastern traditional herbalism to increase chi and well-being, earning it the nickname "The Immortals' Fruit". 
Key Benefits:

Gluten Free
Dairy Free
Vegetarian
Vegan Friendly
Ingredients:

Lakanto Classic Monkfruit Sweetener (Erythritol and Monk Fruit Extract (1%)).