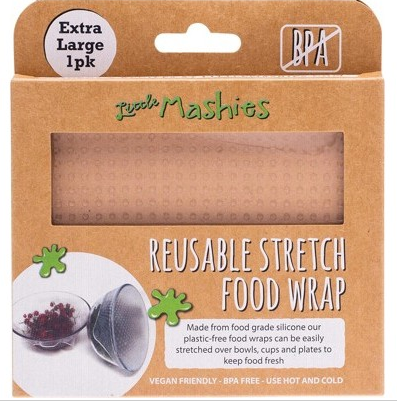 Little Mashies
Little Mashies Reusable Stretch Silicone Food Wrap Pack Of 1 - XLarge 30cm x 30cm
 Little Mashies new range of replacements for cling wraps, aluminum foil, baking paper and sandwich bags is a sustainable life saver!  
These Silicone Food Wraps are so great to have in the kitchen you will be buying multiple sets and telling all your friends!
XLarge 30cm x 30cm Pack of 1

Made From:
Premium Food Grade Silicone.
Key Benefits:
Durable and reusable thousands of times
Made from food grade silicone (BPA free, PVC free, Phthalate free)
Nonporous and impermeable (bacteria resistant)
Freezer safe, dishwasher safe, oven and fridge safe (-40 degrees celcius to 230 degrees celcius)
Recyclable at home and at centres (melt down the silicone to create non-consumer products)
Remove the need for plastic wrap around fruit and vegetables
Can be used as a lid on jars, mugs & cups, and as a cover for bowls and plates