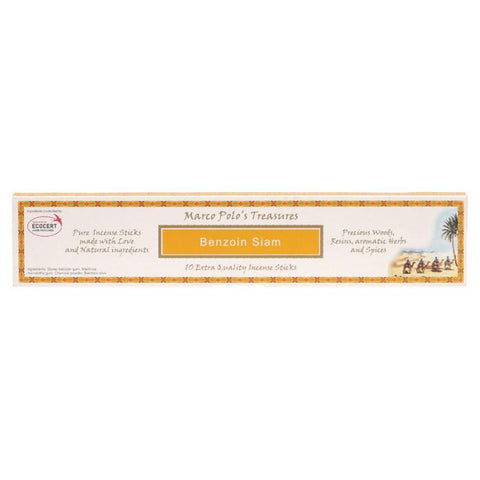 Marco Polo's Treasures
Marco Polo's Treasures Incense Sticks Benzoin Siam - 10 Pack
Marco Polo's Treasures is a line of handmade incense that is truly natural and pure and is certified by ECOCERT.
Marco Polo's Treasures Pure Natural Incense Sticks are made with Love and Natural ingredients -  precious woods, resins, aromatic herbs and spices.
In the East it has been believed for thousands of years that fumigation produced by burning the Benzoin Gum helps to rid adversity from the home and has also been used as a lucky charm. In China, it was used for medicinal purposes for thousands of years (digestive, antiseptic, etc.). It stimulates sensuality and has a calming effect.
Ingredients:
Styrax Benzoin Gum, Machilus Macrantha Gum, Charcoal Powder, Bamboo.
Key Benefits:
Natural Ingredients
Stimulates Sensuality
Calming Effect
Precious Woods
Resins
Aromatic Herbs & Spices