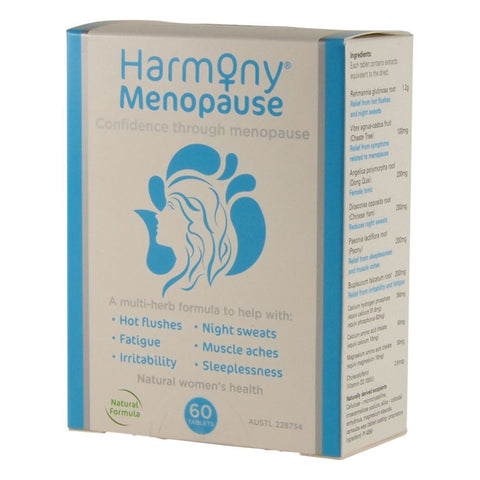 Martin & Pleasance
Martin & Pleasance Harmony Menopause Relief
$22.00
$24.00
you save $2.00
For over 150 years Martin & Pleasance has provided an extensive range of natural remedies based on a commitment to Integrity, Quality and Innovation. Proudly Australian made and owned, at Martin & Pleasance we pride ourselves on pioneering new and champion emerging products that can be of most help to you, naturally.
Harmony Menopause is a combination of 6 vital herbs and vitaminD3, calcium and magnesium traditionally used to relieve the symptoms of menopause and perimenopause. A high potency herbal medicine, traditionally formulated to support women during hormonal changes and helping to relieve stress, hot flushes and to provide nourishment for the whole body. Free from wheat, gluten, artifical sweeteners and dairy
Ingredients:
Rehmannia glutinosa root: 1.2g Vitex angus-castus fruit (Chaste Tree): 100mg Angelica polymorpha root (Dong Quai): 200mg Dioscorea oppoita root (Chinese Yam): 200mg Paeonia lactiflora root (Peony): 200mg Bupleurum falcatum root: 200mg Calcium hydrogen phosphate: 350gm. Equiv calcium 81.6mg Calcium amino acid chelate: 50mg. Equiv calcium 10mg Magnesium amino acid chelate:50mg. Equiv magnesium 10mg) Cholecalciferol: 2.5mcg (Vitamin D3 100IU).
Key Benefits:
GMO Free

Gluten Free

Preservative Free

No Artificial Sweeteners

Dairy Free

No Animal Products

Relieves Hot Flushes

Stabilises Mood Swings

Suitable for Vegetarians & Vegans
Please note:
Always read the label and use only as directed. If taking any medications or symptoms persists, consult your healthcare professional