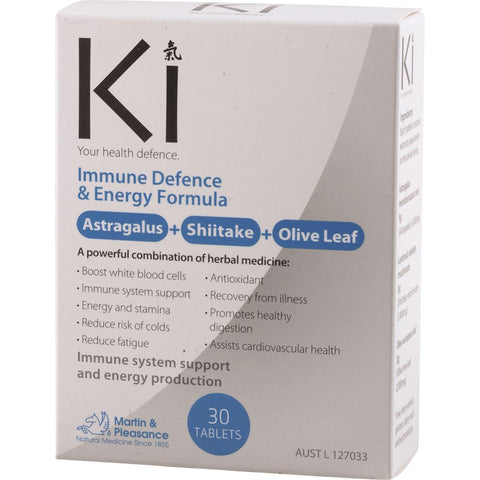 Martin & Pleasance
Martin & Pleasance Ki Immune Defence & Energy Formula 30t
$21.00
$22.00
you save $1.00
For over 150 years Martin & Pleasance has provided an extensive range of natural remedies based on a commitment to Integrity, Quality and Innovation. Proudly Australian made and owned, at Martin & Pleasance we pride ourselves on pioneering new and champion emerging products that can be of most help to you, naturally.
Ki Immune Defence & Energy Formula is high potency herbal medicine to help protect against viral infections, boost immunity and increase energy when recovering from illness. Free from wheat, gluten, animal products, added sugar, artifical sweeteners and dairy products.
Ingredients:
Astragalus, Shitaake, Olive Leaf.
Key Benefits:
GMO Free

Gluten Free

Preservative Free

No Artificial Sweeteners

Dairy Free

No Animal Products

Boosts Immunity

Increses Energy

Suitable for Vegetarians & Vegans
Please note:
Always read the label and use only as directed. If taking any medications or symptoms persists, consult your healthcare professional