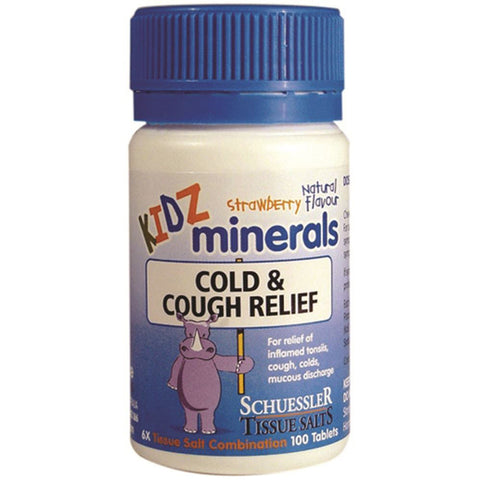 Martin & Pleasance
Martin & Pleasance Kidz Minerals Cough & Cold Relief 100t
$8.00
$9.00
you save $1.00
For over 150 years Martin & Pleasance has provided an extensive range of natural remedies based on a commitment to Integrity, Quality and Innovation. Proudly Australian made and owned, at Martin & Pleasance we pride ourselves on pioneering new and champion emerging products that can be of most help to you, naturally.
Cold and cough relief is a Schuessler tissue salt traditionally used to relieve symptoms of coughs, colds, inflamed tonsils and mucous discharge. Cough and cold relief may be used at the first sign of a cold developing, or for ongoing use throughout the winter months to maintain wellbeing.
Children 1 – 11 years: 1 tablet, 4 times daily
Infants 0-11 months: ½ tablet, 4 times daily (crush the ½ tablet, add to a few drops of water and mix into a paste, administer paste to mouth with dummy, spoon, finger etc).
Ingredients:
Each tablet contains 250ng of: Ferr Phos (Ferric pyrophosphate) Kali Mur (Potassium chloride) Kali Sulph (Potassium sulphate) Nat Mur (Sodium chloride).
Ferr Phos: assists with chest troubles, bronchitis, inflammation and ulcerated sore throat

Kali Mur: assists in restoring balance to enlarged tonsils, sore and inflamed throat, loss of voice, acute & spasmodic cough

Kali Sulph: assists in second stage of a cold where expectoration/mucous has become yellow ans slimy with a rattling chest

Nat Mur: assists in maintaining a balance during episodes of watery discharge from nasal passages, difficulty breathing, loss of smell & taste and also for dry mucus membranes
Key Benefits:
GMO Free

Preservative Free

Relieves & Prevents colds naturally

Relieves Inflamed Tonsils

Relieves Chesty Cough

Assists with Mucous Discharge
Please note:
Always read the label and use only as directed. If taking any medications or symptoms persists, consult your healthcare professional