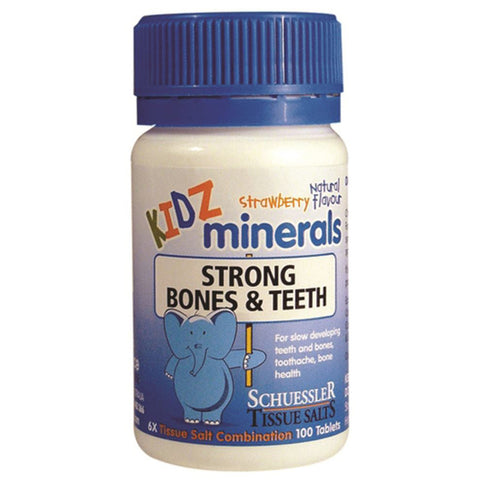 Martin & Pleasance
Martin & Pleasance Kidz Minerals Strong Bones & Teeth 100t
$8.00
$9.00
you save $1.00
For over 150 years Martin & Pleasance has provided an extensive range of natural remedies based on a commitment to Integrity, Quality and Innovation. Proudly Australian made and owned, at Martin & Pleasance we pride ourselves on pioneering new and champion emerging products that can be of most help to you, naturally.
Strong Bones & Teeth is a Schuessler tissue salt combination, traditionally used to assist with the formation of strong, healthy teeth and bones and for the relief of toothache and teething pain.
Children 1 – 11 years: 1 tablet, 4 times daily
Infants 0-11 months: ½ tablet, 4 times daily (crush the ½ tablet, add to a few drops of water and mix into a paste, administer paste to mouth with dummy, spoon, finger etc).
Ingredients:
Each tablet contains 250ng of: Calc Fluor (Calcium chloride) Calc Phos (Calcium phosphate Mag Phos (Magnesium phosphate) Silica (Silicon dioxide).
Calc Fluor: assists with improving enamel of teeth and malnutrition of bones

Calc Phos: bone health, gives solidity to bones and assists in building strong teeth

Mag Phos: quick pain relief of symptoms associated with toothache, teething children and bone development

Silica: assists in building strong connective tissue to support deficient assimilation
Key Benefits:
GMO Free

Preservative Free

Assists with Building Strong Connective Tissue

Relieves Teething Pain

Relieves Tooth Ache

Assists with Bone Development

Suitable for Vegetarians & Vegans
Please note:
Always read the label and use only as directed. If taking any medications or symptoms persists, consult your healthcare professional