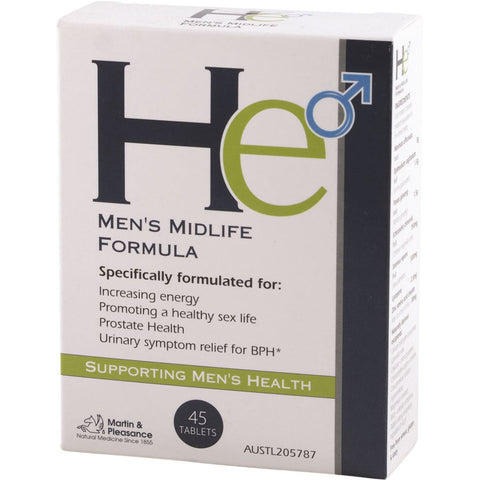 Martin & Pleasance
Martin & Pleasance Men's Mid Life Formula 45t
$21.00
$24.00
you save $3.00
For over 150 years Martin & Pleasance has provided an extensive range of natural remedies based on a commitment to Integrity, Quality and Innovation. Proudly Australian made and owned, at Martin & Pleasance we pride ourselves on pioneering new and champion emerging products that can be of most help to you, naturally.
Men's Mid Life Formula targets the following issues that can appear along with middle age. Prostate and Sexual health: Incidence of benign prostate enlargement and frequent urination may increase as does a loss of libido and sexual function, like the ability to maintain and sustain erections. Emotional and Stress: Mood swings, irritability, mild anxiety and insomnia. Energy and Mental Performance: As men age they may want to improve their energy, exercise performance, stamina, mental performance and concentration. This formula also promotes overall vitality and wellbeing.
Ingredients:
Morinda

 

officinalis

 

root 

 

3g

Epimedium

 

sagittatum

 

leaf (horny goat weed)  1.5g

Panax

 

ginseng root (Korean ginseng)   1.5g

Schizandra

 

chinensis

 

fruit 

 

750mg

Serenoa

 

repens

 

fruit  (Saw Palmetto) 

 

500mg

Lycopene

   2.5mg
Zinc amino acid

 

chelate

 

 

30mg

  (

eq

 

to

 

6mg

 

of Zinc)
Dosage: Starting dose: 2 tablets per day until symptoms improve. - Maintenance dose: 1 tablet per day - Or take as directed by your healthcare practitioner.
Key Benefits:
GMO Free

Gluten Free

Preservative Free

No Artificial Sweeteners

Dairy Free

No Animal Products

Relieves Anxiety

Improves Mental Performance
Please note:
Always read the label and use only as directed. If taking any medications or symptoms persists, consult your healthcare professional