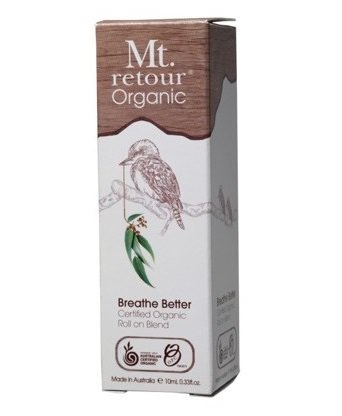 Mt Retour
Mt Retour Breathe Better Blend Roll-On Essential Oil 10ml
$7.00
$8.00
you save $1.00
Mt Retour produce a high quality range of natural essential oils that are certified organic.
A refreshing blend for clearing the respiratory system. This blend revitalises and reawakens the senses. Ideal for alleviating symptoms of cold, flu, nasal congestions and sinusitis as well as supporting respiratory health.
Ease muscous deposits out of the chest and loosen cough

Helps to calm breathing and for those who suffer from difficult breathing

Refreshing and purifying for the mind & body
Directions:
Multipurpose Liquid (1ml/1ml)
Massage: 4 drops to 10 ml carrier oil
Bath: 5 drops in full drawn bath.
Vaporiser: 9-10 drops in a bowl of vaporizer
Not to be taken. Store below 30˚c
Do not apply directly to skin
Keep out of reach of children
Ingredients:
Camellia Oil (Camellia Oleifera), Almond Oil (Prunus Amygdalus Dulcis), Eucalyptus (Eucalyptus Globulus) Oil. Peppermint (Mentha Piperita) Essential Oil, Cedarwood Atlas (Cedrus Atlantic) Essential Oil, Lemon (Citrus Limonum) Essential Oil, German Chamomile (Matricaria Chamomile) Essential Oil, Lavender Bulgarian (Lavandula Angustifolia) Essential Oil.
Key Benefits:
Certified Organic

GMO Free

100% Essential Oil

No Animal Testing

No Petrohemicals

No Artificial Fragrance

No Paraben & Sulfate

Ethoxylate Free