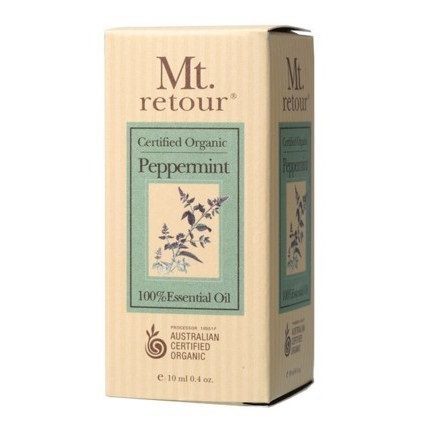 Mt Retour
Mt Retour Peppermint Essential Oil 10ml
In stock with supplier- ships within 5-7 business days
Mt Retour produce a high quality range of natural essential oils that are certified organic.
Characteristic & Properties:
Evidentially, Peppermint was used in ancient Egypt. both the ancient Chinese and Japanese used Peppermint oil too. A grassy-minty scent is renowned for relieving nausea and headaches. Promotes blood circulation and relieves muscular and psychological pains.
Anti-inflammatory, anti-viral.
Aid digestive disorder & bowel syndrome
This oil is used as inhalation to treat respiratory symptoms e.g. coughs & cold & bronchitis, sinusitis as well as migraine, nausea and nervous conditions.
It is also very useful in the treatment of colds and flu.
An astringent and anti-spasmodic.
Anti-septic for skin irritation
Directions:
Multipurpose Liquid (1ml/1ml)
Massage: 4 drops to 10 ml carrier oil
Bath: 5 drops
Vaporiser: 9-10 drops in a bowl of vaporizer
Not to be taken. Do not apply directly to skin
Keep out of reach of children.
User Guide/Precautions:
Peppermint essential oil is extremely high in the chemical component of menthol; because of this fact, it should be taken with great care. Peppermint essential oil is not suitable for pregnant and lactating women, infants and young children.
It should not be used in cases of epilepsy or heart disease either. Used in the evening, Peppermint essential oil may cause wakefulness. High doses might cause allergic reactions.
Director's Comments:
In 2004, I went to the South of France for Aromatherapy training. Dr Daniel, a world famous aromatherapy specialist told me that the French have used aromatherapy essential oils for over 1,500 years to help treat diseases and health problems. Doctors would even prescribe essential oils to patients where it was claimed back by medi-care.
But unfortunately today the big drug companies have encouraged doctors to stop this practice so they don't lose profits. Dr Daniel also advised that peppermint oil can be ingested (taken orally) if you know how to use it properly. In our training he used a few drops of peppermint essential oil on a cut piece of apple which had a very refreshing taste.
We were also asked to run peppermint oil on our feet which helped to increase the circulation in our bodies. It is also good for enhancing the immune system. Next time you have a flu try rubbing some peppermint oil on your feet to see how much better you feel.
Another tip you be to inhale peppermint oil while you drive to keep you alert and awake or you can burn peppermint oil in your office to help increase energy and aid concentration.
Ingredients:
100% Pure Peppermint Essential Oil.
Key Benefits:
Certified Organic

GMO Free

100% Essential Oil

No Animal Testing

No Petrohemicals

No Artificial Fragrance

No Paraben & Sulfate

Ethoxylate Free