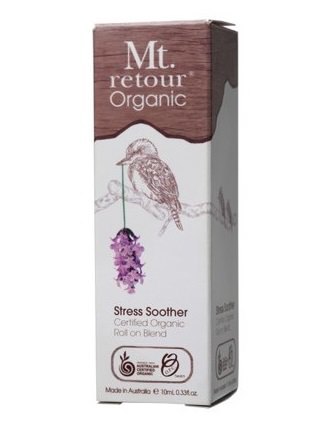 Mt Retour
Mt Retour Stress Soother Blend Roll-On Essential Oil 10ml
Mt Retour produce a high quality range of natural essential oils that are certified organic.
A soothing and peaceful blend for relaxation. A harmonizing blend to relieve stress, nervous tension and promote inner peace. deal for either elevating the state of mind during the day or preparing the body to rest.
Calming effect on the nerves, relieving tension, depression

Effective for headaches, migraines and insomnia

Sooth irritability and relieves stress
Directions:
Multipurpose Liquid (1ml/1ml)
Massage: 4 drops to 10 ml carrier oil
Bath: 5 drops in full drawn bath.
Vaporiser: 9-10 drops in a bowl of vaporizer
Not to be taken. Store below 30˚c
Do not apply directly to skin
Keep out of reach of children
Ingredients:

Camellia Oil (Camellia oleifera), Almond Oil (Prunus amygdalus dulcis), Lavender Bulgarian (Lavandula Angustifolia) Essential Oil, Lavender French (Lavandula Angustifolia) Essential Oil, Orange Sweet (Citrus Sinensis) Essential Oil, Ylang Ylang Complete (Cananga Odorata) Essential Oil, Bergamot Calabrian (Citrus Aurantium Var. Bergamia) Essential Oil.
Key Benefits:
Certified Organic

GMO Free

100% Essential Oil

No Animal Testing

No Petrohemicals

No Artificial Fragrance

No Paraben & Sulfate

Ethoxylate Free