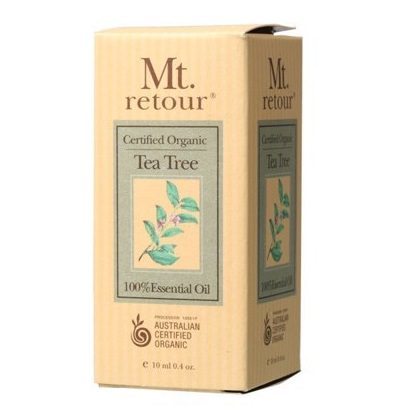 Mt Retour
Mt Retour Tea Tree Essential Oil 10ml
$8.00
$9.00
you save $1.00
In stock with supplier- ships within 5-7 business days
Mt Retour produce a high quality range of natural essential oils that are certified organic.
A native Australia anti-bacterial that helps oily and acne prone skin. Helps alleviate colds and flu.
Characteristic & Properties:
Tea Tree oil is beneficial to all family members. They will benefit from the deep cleanser and antiseptic properties. It is one of the most common all-rounded trees in Australia.
Antifungal, antiseptic, anti-infectious, anti-inflammatory and antiviral.
Very common in treating ailments from dandruff to athlete's foot. This aromatic oil protects and heals the skin from insects and spider bites when used in combination with lavender essential oil.
The continuing use of tea tree oil will help in keeping germs and bacteria enter your body so it is suitable for body wash or shampoo.
Tea tree oil is a natural cleanser and the refreshing herbal scent will keep the skin feel refreshed.
Treatment for acne skin:
Always dilute tea tree oil prior to usage. Simply add eight to ten drops of tea tree oil to a natural base face wash and use twice a day. To dry out pimples, place a drop of DILUTED tea tree oil on the affected area. Live the oil overnight and the pimple will be almost gone by the morning.

Dandruff Treatment:
Tea tree oil can also be used to treat dandruff. Mix ten drops of tea tree oil with sulfate free shampoo. Leave the shampoo for five minutes on the scalp, gently massage and rinse. Your scalp will feel refresh and the oil will diminish the fungus causing the dandruff.
Directions:
Multipurpose Liquid (1ml/1ml)
Massage: 4 drops to 10 ml carrier oil
Bath: 5 drops
Vaporiser: 9-10 drops in a bowl of vaporizer
Not to be taken. Do not apply directly to skin
Keep out of reach of children.
User Guide/Precautions:
Always dilute tea tree essential oil in a facial wash, shampoo or lotion base before applying to the skin.
Director's Comments:
Tea tree is a multi-purpose essential oil which has very powerful anti-fungal, anti-bacterial and antiseptic properties. You can use it on a cotton bud and dap on your acne because of its powerful antibacterial properties.
Ingredients:
100% Pure Tea Tree Essential Oil.
Key Benefits:
Certified Organic

GMO Free

100% Essential Oil

No Animal Testing

No Petrohemicals

No Artificial Fragrance

No Paraben & Sulfate

Ethoxylate Free