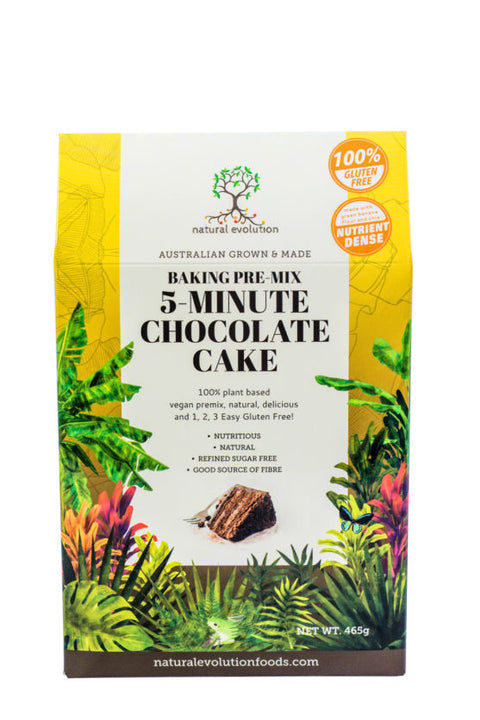 Natural Evolution
Natural Evolution 5-Minute Chocolate Cake Mix 465g
Natural Evolution 5-Minute Chocolate Cake Mix is made using high quality ingredients for those people who want, versatile, easy gluten free baking. Enjoy your favourite food again! These premixes deliver easy gluten free baking results.
Directions:
1. Preheat oven to 180°C or 356° Fahrenheit
2. Line tin with baking paper.
3. Add eggs, milk, water and oil into mixing bowl and mix well.
4. Add contents of Natural Evolution 5 Minute Chocolate Cake mix into the bowl and mix well.
5. Pour batter into the cake tin and evenly spread out over the top. 6. Bake for 35-40 mins. Remove let cool and enjoy.
MUFFINS: Simply add mixture to a muffin tray and make delicious nutritious muffins, bake for 15-20 mins until cooked.
BLACK FOREST CAKE: Add one cup mixed berries to the cake batter.
CHOC ORANGE: Add 2 tablespoons of finely grated orange rind to the cake batter.
Ingredients:
Australian Natural Evolution Green Banana Resistant Starch, Australian Buckwheat Flour, Australian Rice Flour, Australian Chia Seeds, Coconut Nectar, Cocoa Powder, Rock Salt, Baking Powder, Vanilla Bean Powder, Xanthan Gum.
Key Benefits:
Gluten Free

No Artificial Colours

Suitable for Vegetarians & Vegans

Refined Sugar Free

High in Fibre