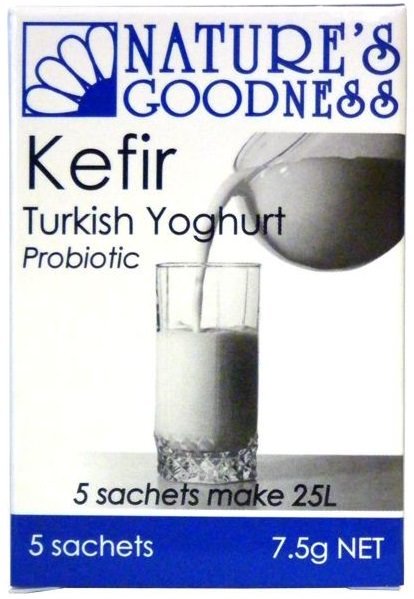 Nature's Goodness
Nature's Goodness Kefir Turkish Yoghurt Probiotic 5 sachets 7.5g
Kefir is a fermented milk drink that originated in the Caucasian Mountains near Turkey, where it was used for centuries as a healthy drink. Kefir is a probiotic - a source of beneficial bacteria and yeasts which help maintain a healthy digestive system. These include Lactobacillus, Lactococcus, Leuconostoc, and Saccharomyces kefir. 5 sachets make 25L.
Benefits:
Kefir has been found to help:
following gastrointestinal disease

maintain healthy intestinal flora

people with lactose intolerance
Directions:
Stir contents of 1x Kefir sachet into 1L of milk. Leave for 24-36h at 20oC or until Kefir starts to settle, then place in fridge for 12h. The Kefir is ready to drink when it has a smooth consistency, similar to then yoghurt. Collect half a glass of Kefir - this can be used for a subsequent inoculation of 1L of milk. Repeat up to another 3 times to make 5L Kefir total.
Serving Suggestion:
Serve Kefir with your favourite fruit, or add a pinch of salt to add zest to the flavour.
Ingredients:
lyophilised Kefir culture, whey powder.
Key Benefits:
GMO Free

Suitable for Vegetarians
Not Certified Organic
Barcode
9311968111129