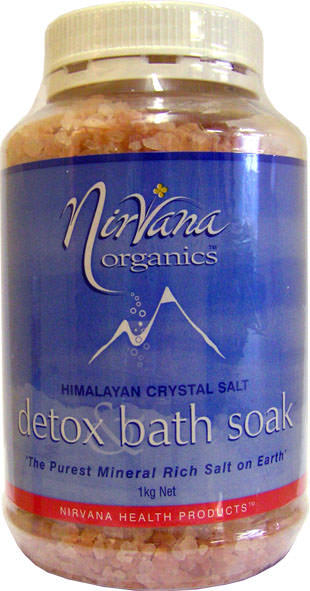 Nirvana Organics
Nirvana Organics Himalayan Detox Bath Soak Salt 1kg
Experience the benefits of a Nirvana Organics Himalayan Crystal Salt Bath! Well-prepared Himalayan Crystal Salt baths are renowned for their detoxifying effect, leaving you feeling refreshed and full of energy. The cleansing effect created is considered equivalent to a 3 day fast. Toxins from your body are released through the skin into the water. Unlike normal baths that dry out the skin, bathing in Himalayan Crystal Salts actually hydrates the skin and promotes moisture retention. The soaking effect may also help reduce inflammation of the muscles and joints helping to relieve pain or soreness.
Born of Tibetan glaciers, the Indus River runs a course through the pristine valleys of Kashmir. For a total of 3200 kilometers, the river feeds the ecosystem of temperate forests, plains and arid countryside. On the banks of the river, high in the Himalayan foothills, lies the village of Wanda Kukranwala.
The crystal salt found here was so pure that it was used as local currency - nature"s "white gold". Today, you and your body can benefit from the "salt of life" that nature has provided. Nirvana Organics Himalayan Crystal Salt is much more than just rock salt or the sea salt processed in modern times. It is a complete food, identical in composition to the primal ocean itself. It contains an abundance of stored sunlight plus 84 minerals and trace elements found naturally in the human body, essential for life and good health. Due to the salt's remarkable crystalline structure, the elements are available in minute particles (colloidal size) and can easily be absorbed by human cells and metabolized.
Nirvana Organics Himalayan Crystal Salt is selected from one of the few regions in the world where salt is still hand mined, hand picked and stone ground. It takes time, but with the crystals intact, you are assured of the most beneficial, mineral-rich salt available.
Key Benefits:
Totally Natural

Unrefined

Wholesome and holistic

84 elements essential to life and good health

Free from Environmental Pollution

No additives

Hand mined for crystal protection

From the Himalayan region of Kalabagh

PMDC- Government accredited for highest quality