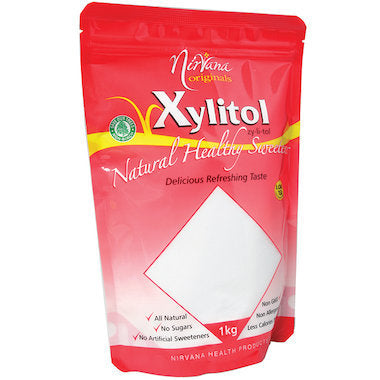 Nirvana Organics
Nirvana Xylitol Pack 1kg
$19.00
$21.00
you save $2.00
A naturally sweet alternative to sugar and artificial sweetners that's good for you.

• Perfect all-natural alternative to sugar and artificial sweeteners
• Premium Grade 100% Xylitol
• Low glyaemic index of only 7
• 40% less calories than sugar
• Great to manage sweet cravings and blood sugar levels
• Delicious and refreshing taste
• Derived from non-GMO corn cob
• Use just like sugar

Xylitol (pronounced zyl-it-ol) is a remarkable, natural substance that has many beneficial qualities, and tastes just like sugar. It even looks like sugar. Xylitol allows you to indulge your 'sweet tooth' in any way you like, knowing the taste is doing you good.
Xylitol is a substance that occurs naturally in fibrous fruits and vegetables such as plums, strawberries, corncobs and mushrooms. It is also found in some hardwood trees including Birch. Unlike some other xylitol products which are made from felled birch trees, Nirvana Xylitol is made from non-GMO, non-allergenic corn cob (core), an environmentally sustainable source of the natural ingredients.
There are no additives in Nirvana Xylitol and it has no sugars or artificial sweeteners, has 40% less calories than sugar, no fat, no protein, no artificial flavours, no artificial colourings and no preservatives. It also as a low GI of just 7.
Nirvana Xylitol has a delicious, refreshing taste. Children love the natural sweet taste too – not like some artificial sweeteners. Nirvana Xylitol tastes good and is good for you too.
Xylitol is safe for the whole family it is not a drug, nor is it habit forming. It is approved for use in Australia by the FSANZ [Food Standard Australia & New Zealand]. In 1983 JECFA [Joint Expert Committee on Food Additives] and FAO [Food and Agriculture Organization] a sub committee of the WHO [World Health Organization], confirmed that Xylitol is a safe sweetener for foods.
Xylitol is suitable for those who need to monitor and manage blood sugar levels as it is metabolised independently of insulin and should be considered a low glycaemic ingredient. Following ingestion of Xylitol, the blood glucose and serum insulin responses are significantly lower than for glucose or sugar. However, if in any doubt please consult your doctor.
In more than 30 years of study, dental researchers have pointed to Xylitol as a key ingredient in helping to protect against tooth decay. In fact it is extensively used in many oral hygiene products. Dental health professionals in Europe have been using Xylitol since the 1970's. In particular the Finnish government is thought to have saved millions of dollars by using Xylitol in its health programs.
One spoonful of Nirvana Xylitol is approximately the same sweetness to one spoonful of sugar. It is easy to use in the home – in your favourite recipes, on cereal, in hot & cold beverages … anywhere that you would normally use sugar. The big plus with Nirvana Xylitol is that you are helping your family to stay healthy - 40% less calories and helping to prevent tooth decay.
Key Benefits:
GMO Free

No Artificial Flavours, Colourings & No Preservatives.

Gluten Free

Dairy Free

Suitable for Vegetarians and Vegans