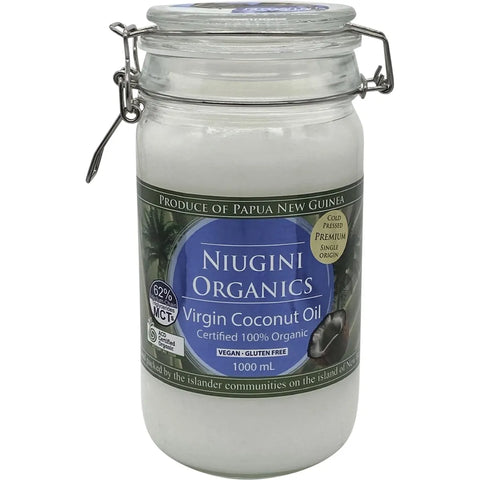 Niugini Organics
Niugini Organics Virgin Coconut Oil 100% Pure 1L
$21.00
$23.00
you save $2.00
Studies have shown that organic oil helps soften the skin, reduce blood sugar levels, lower cholesterol and adds a natural shine to hair. Most importantly, with organic oil, you can enjoy the foods you love without the high oil fat content. Plus, every time you purchase a Niugini product, you'll be helping the farmers of Papa New Guinea improve their livelihoods. Niugini Organics Virgin Cooking Oil is both dairy and gluten-free – and 100 percent certified organic.
Completely Natural & 100%
Join the next worldwide trend in healthier cooking!
Light, delicious and easy

No trans fats guaranteed

Totally organic and Plant derived raw super food

Heart friendly recipes

Cholesterol free cooking

Bake, grill and even fry without the health risks
Transform your diet now…easily and naturally!
The Scientifically proven way to suppress your appetite and help your body metabolize and use fats faster.
Scientific Studies show that by substituting your normal cooking oil for delicious and easy to use coconut oil, you can lose pounds without making any other changes.
Better Management of Type 2 Diabetes & Cholesterol
Exciting news! Adding this organic produce to your diet reduces blood sugar levels without drugs and helps you maintain a healthy weight!
Reliable scientific evidence indicates that this food source stimulates the metabolism without the production of insulin. Because of its unique molecular structure, it helps reduce cholesterol in your blood vessels and fat around your waist and buttocks than conventional, so called "healthy" polyunsaturated vegetable oils and margarines. You can control your diabetes today without medication or nasty side effects!
Share a Natural Skin & Hair Beauty Secret that is Thousands of Years Old
Discover the secret of naturally soft and youthful looking skin that the people of Tahiti, Hawaii and the South Sea Islands have known for centuries. This nutritious substance has the closest structure to your own natural skin oil and contains powerful anti oxidants which control harmful free radicals that destroy skin cells. Find out more about this totally natural, traditional skin and hair care product.
Good for You & Good for the Farmers of Papua New Guinea - You can help!
Always look for a product that passes on a premium to the local farmers. If you choose to buy Niugini Organics products you will be directly assisting the indigenous farmers to better their lives.
The small island of New Britain, off the coast of PNG, is especially favored for coconut production because it is extremely volcanic and volcanic ash particles, rich in natural minerals, constantly fall on the coastal soils and nourishes the coconut palms – natures own super food.
Because we are a fair trading organization, our policy is to reinvest sales revenue of Niugini Organic produce back into the Napapar region and support its local village farmers by expanding their industry and increase their quality of life.
Niugini Organics coconut oil is not only good for you, it's good for the environment and the local growers in Papua New Guinea. The coconuts are wild harvested, and are 100% hand finished on site by the local community growers, stored in reusable glass Kilner jars and then cold transported to Australia by the shortest route of any other coconut oil in Australia.
The benefits of coconut oil are widespread now, with it slowly becoming a mainstream product. The Niugini Organics coconut oil is our favourite because thought has gone in to storing the product in reusable glass. It has a smaller carbon footprint than other coconut oils and it's certified organic, the way it should be!
Ingredients:
Organic Coconut Oil.
Key Benefits:
Certified Organic

GMO Free

Raw

Wild Harvested

Gluten Free

Dairy Free

Suitable of Vegetarian & Vegans

Stored in Reusable Kilner Glass Jar
Certified by OFC
Country of Origin:
Papua New Guinea.
Barcode
9318816111317