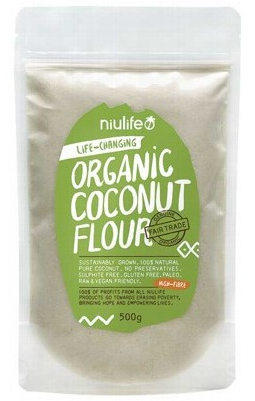 Niulife
Niulife Organic Coconut Flour 500g
Coconut Flour is made from fresh organic coconut meat. The meat is dried and defatted and then finely ground into a powder very similar in consistency to wheat flour.
Coconut Flour is a low carb flour. It is ideal for baking low "" carb breads and baked goods. It has fewer digestible (net) carbs than any other flour, including soy! It even has fewer digestible carbs than most vegetables.
Coconut Flour is a good source of protein. It has as much protein as wheat flour but it has none of the specific protein in wheat called "gluten". This is an advantage for a growing percentage of the population that have developed an allergy to gluten or a wheat sensitivity.
Coconut Flour is high in fibre. It contains 38.5% fibre which is the highest percentage of dietary fibre found in any flour (wheat bran is 27% fibre). Coconut flour contains almost 3 times as much fibre as soy flour.
Coconut Flour can be used to make breads, cakes, pies, and other baked goods. Use 15-25% in place of other flours in most standard recipes. A variety of delicious baked goods can also be made using 100% coconut flour.
Coconut Flour is gluten-free and hypoallergenic. It is ideal for those who follow a low "" carb eating plan. It works well as part of a weight loss program because it's high fibre content helps provide a feeling of satiety.


In an attempt to solve these problems, food manufacturers have developed a variety of wheat-free or low-carb breads and flours made from soy, beans, and nuts. Most of these alternatives to wheat are expensive and don't taste that good, unless they are loaded with flavour enhancers and sweeteners.

Blood Sugar and Diabetes Blood sugar is an important issue for anyone who is concerned about heart disease, overweight, hypoglycaemia, and especially diabetes because it affects all of these conditions.
Ingredients:
Organic Coconut Flour
Key Benefits:
Organic Ingredients

GMO Free

Gluten Free

Dairy Free

Fair Trade

Suitable for Vegetarians
Barcode:
9336318000601