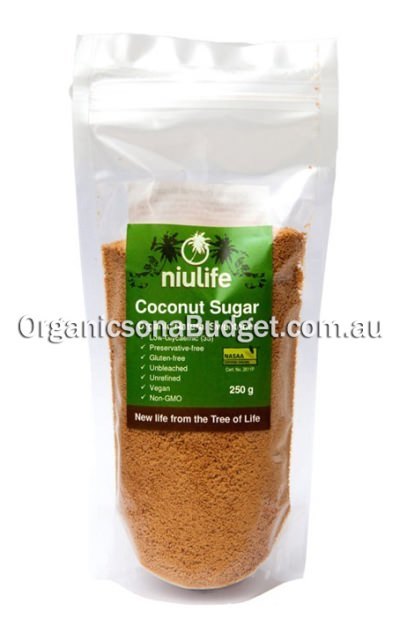 Niulife
Niulife Organic Coconut Sugar 250g
Coconut nectar is collected from the flower of the coconut tree just before the nut is formed. The delicious nectar is dehydrated and made into crystals which can be used in the same way as regular sugar.
Niulife pure unrefined Coconut Sugar is sustainably harvested and is nature's best all natural sweetener. Certified Organic and with a low GI of around 35 it is a smarter choice for the whole family.
Packed with nature's vitamins, minerals and amino acids, Coconut Sugar contains no empty calories.
Niulife Coconut Sugar Key Benefits:
100% Certified Organic and fairly traded
Low GI (35) – so won't spike your blood sugar
Made with only pure coconut nectar – no cane sugar and no fillers
Packed with Vitamins, Minerals & Amino Acids
High levels of Inositol – the "feel good" Vitamin B8 – fights the moody blues and helps maintain a positive frame of mind
High levels of electrolytes for post–workout muscle recovery
Sustainably harvested by family farmers
Ideal For:
Cyclists, athletes, hikers, manual workers for electrolyte replacement, energy, and muscle recovery.
Office workers – use in tea or coffee or in your baking to sustain and aid concentration, mental alertness and positive mood.
The whole family – use in baking or sprinkle on breakfast porridge instead of regular sugar to boost your vitamin intake and energy levels.
You can use Niulife Coconut Sugar in place of regular sugar in the same 1:1 Ratio when baking or sweetening drinks, homemade cordials etc. Use in salad dressing, for marinating meat for the barbecue – anything you can think of. Pure Coconut Sugar is a great natural flavour enhancer – you'll notice the difference!
Coconut sugar enhances the coffee experience – deepening the flavour and adding no empty calories. (The number of calories are similar to raw sugar but are low G.I. and packed with nutrients)
Great for the kids to have as a sweet treat while at school.
Ideal for athletes / cyclists / gym goers to have a high–value sugar boost while on the go. The high levels of potassium, vitamins, minerals and amino acids are a treasure trove of easily assimilated goodness for the athlete – with the extremely low G.I. of 35 (that is only found in 100% pure coconut sugar) a readily available form of even energy and muscle nutrient replenishment. It is blood sugar–friendly and gives a long lasting, even energy.
Ingredients:
100% Fresh Organic Coconut Nectar (sap).
Key Benefits:
Certified Organic

GMO Free

Unrefined

Low GI (35) Won't Spike your Blood Sugar

Gluten Free

Dairy Free

Fair Trade

Suitable for Vegetarians & Vegans