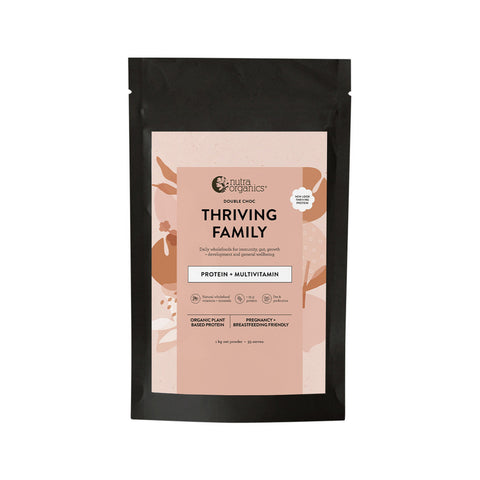 Nutra Organics
Nutra Organics Organic Thriving Family Protein (Protein + Multivitamin) Double Choc 1kg
$65.00
$70.00
you save $5.00
Thriving Family is your one-stop-shop helping to cover the important nutritional bases every day for both kids & adults. With natural wholefood ingredients, it's the easiest way to ensure your family is getting real nutrients in their diet. No synthetic vitamins or ingredients here!
Featuring gut-friendly protein, calcium, iron, selenium, vitamins C, E, folate and other B vitamins to support optimal health and wellbeing.
Plus with prebiotics & 1 billion CFU of probiotics per serve, Thriving Family is gut loving and is easily digestible for tiny tummies.
Why you will love Thriving Family:
>15 g Protein per serve
Pregnancy & Breastfeeding
Kids from 12 months +
Growth & Development
Immunity
Restores Digestive Health
Energy
Muscle & Bone Support
Gluten Free & Vegan
Ingredients:
Protein Blend (Sprouted & Fermented Pea*, Sprouted Brown Rice*), Rice Milk*, Cocoa* (14 %), Arctic Sea Algae* (Calcium), Natural Flavour, Linseed*, Prebiotic Fibres (Apple Pectin, Inulin*), Wholefood Vitamin & Mineral Extracts (Curry Leaf, Guava, Amla, Achiote Seed, Holy Basil, Lemon), Cacao*, Probiotic BC30® (Bacillus coagulans GBI-30, 6068), Natural Sweetener (Thaumatin).
*Certified Organic Ingredients
Allergen warning:
Manufactured in a facility that also processes products containing milk, egg, soy, sesame, lupin, fish, crustacean, mollusc and tree nuts.
Key Benefits:
Certified Organic

Organic Ingredients

Gluten Free

Suitable for Vegetarians & Vegans
Country of Origin:
Australia
Barcode
9343723001543